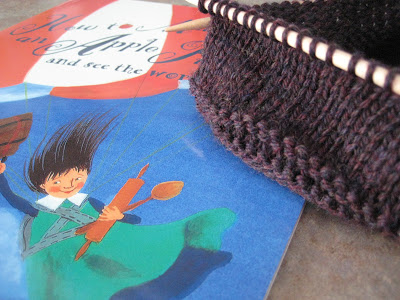 Yarn Along III
Yarn Along III
This week, I am still knitting the
February Doll Sweater
, but I also started another baby hat. This one being much more basic than the
Cute Noggin Baby Hat
. This one is called the
Hospital Hat
, and it is straight stockinette knitting with a garter stitch border and a little tied I-cord at the top.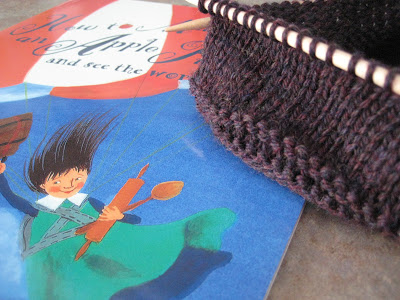 When I was selecting yarn for the Cute Noggin hat, I saw some pretty brown yarn that I almost purchased (but didn't). When my first son was born, he wore a few brown baby garments, and I just really liked the way brown suited his boyish look.
So, with this new baby boy, I thought a little brown cap would be adorable.
Well, one night when I couldn't sleep, I was looking through my yarn stash and realized I already had some brown yarn from a sweet blogging
pal
. (Yeah! So glad I didn't buy more!) It is Lava Heather from
Knit Picks
.
I casted on the next morning …
As for books, I will continue to go with a fallish/Thanksgiving theme, as we round out the month of November. (Although as you can see from my Wordless Wednesday photo, it's beginning to look a lot like Christmas around here!)
How to Make an Apple Pie and See the World
is new to us this season. And it is so charming and funny. We haven't actually made an apple pie yet this fall, as I am still trying to carve out some time to make
apple bread
. (There just aren't enough hours in the day, at least hours that I can stand on my swollen feet in the kitchen! LOL) But my children giggle every time we read this, and it's fun that there is a bit of geography woven throughout the story, too.