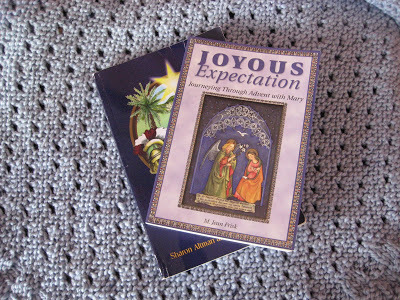 Yarn Along IV
Yarn Along IV
This week's
Yarn Along
, hosted by
Ginny
, takes on a bit of an Advent theme for me.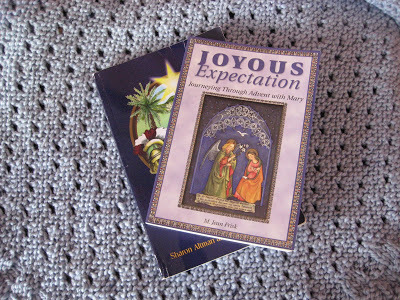 I am sharing a project that I have been working on for a long time. (I started it back in
March
.) It doesn't really have a deadline, so I simply take it out in-between projects or when I need a break from whatever I'm currently working on. Over the summer, I didn't work on it much, but now that the nights are colder, this is the perfect knit, because it keeps me warm while I make some progress! And it is a quiet, simple knit—just right for a quiet, simple Advent.
As for books, I am reading two Advent-themed books.
Destination Bethlehem
is our family read-aloud. This is the third year we have read this book during Advent, and my children really enjoy it. It's very anticipatory in nature, guiding the characters—and readers—closer and closer to the birth of Jesus.
For my own, personal reflection time, I am reading
Joyous Expectation: Journeying Through Advent with Mary
. Being nine months pregnant myself this Advent, I already have started to experience a new and profound connection with Our Blessed Mother. I feel a deeper connection to her, as I await the birth of my son in just a couple weeks. I feel very, very grateful for this, and pray that through these meditations, I can prepare for my son's birth, as well as Christ's birth, with her as my guide.
A blessed Advent to you!