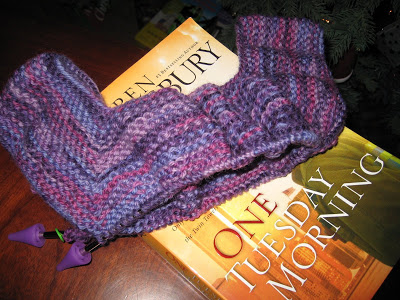 Yarning Along …
Yarning Along …
I almost decided to skip this week. Because I am not much farther along on my
Milo
vest than I was
two weeks ago
.
But Ginny inspired me to post anyway, when I read her own
Yarn Along
post this morning. She wrote, "At the very least, by posting the same project week after week, hopefully some of you won't be afraid to do the same!"
So, here is the little progress I've made on my daughter's vest. I have to admit, I am stumped by my pattern. If any of you have knitted the Milo vest, and could explain how to cast on after shaping the shoulder straps and arm holes, I would greatly appreciate the help. I'm sure it is not difficult; I just don't understand how to do it by simply reading the directions (over and over and over again).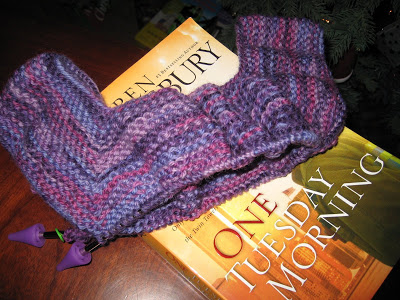 Definitely a bigger accomplishment than my knitting has been my reading! I am actually reading something other than children's books ~ LOL! I am reading a Christian novel,
One Tuesday Morning
. It is a fictional story that takes place around the time of the Sept. 11 terrorist attacks. The description at Amazon sums it up with these words:
A devoted fireman and a driven businessman, strangers with the same face. On that fateful Tuesday, one will leave the Twin Towers alive—but will he ever find his way home?
This book is a very quick read. But it also reminds the reader of the fatal tragedy that took place that Tuesday morning in 2001 … and how we really should never forget something that painfully touched so many fellow Americans.
I also checked out two knitting books from the library—
Speed Knitting
and
Last-Minute Knitted Gifts
. These were recommended by other Yarn Along participants over the weeks. It is fun to look through these books. They offer so much inspiration.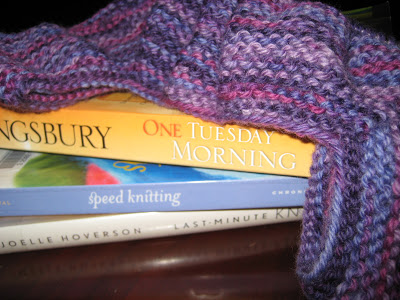 Well, I hope to be a bit further along on my vest next week. And I also hope to be well into the second Sept. 11 novel,
Beyond Tuesday Morning
.