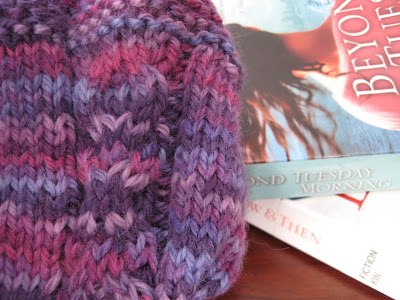 Yarn Along :: Cables
Yarn Along :: Cables
Two weeks ago
, I was stumped by the directions of the
Milo
vest I am knitting for my 3yo daughter. Thanks to all those who offered help! I really appreciated it! I figured it out, and now I am onto the cable part of the pattern.
One thing that I really like about this pattern is the variety of cable options. Five, I think! I chose the
xoxoxo
cable, since it seemed like the most girly and the one that went best with the pinkish-purple yarn I am using, which is
Cleckheaton Country Paintbox
in colorway 30.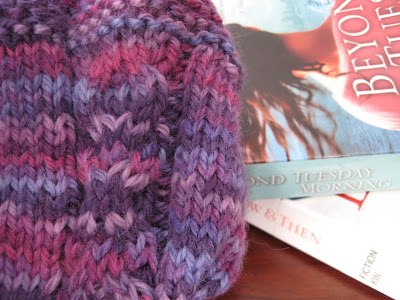 As for books, I just finished the second novel,
Beyond Tuesday Morning
, in Karen Kingsbury's September 11 series. I really enjoyed the storyline. The characters are very likable. Kind of like you wouldn't mind being friends with them IRL. Faith is woven throughout. It's romance. It deals with human sorrow, pain, joy and hope. All in the context of Christian faith. No scandalous surprises. Just a good story.