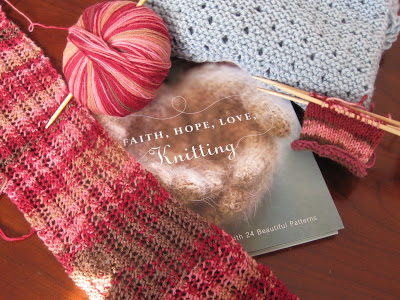 Yarn Along :: WIPs
Yarn Along :: WIPs
Joining Ginny for another Yarn Along … This definitely has become one of the bright spots in my week! I really appreciate seeing so many different knitting (and crocheting) projects, and my to-read list has grown to be about a mile long, thanks to your fabulous recommendations!
This week, I am still working on my mom's
neck warmer
. I am almost done with it (about four rows left). But it looks exactly the same as last week, just longer, so I will wait until next week to show you the finished product.
In the meantime, here are three works in progress (WIPs). They are the projects that tend to get put aside for something new … or something that has a more immediate "deadline" (like a birthday or Christmas).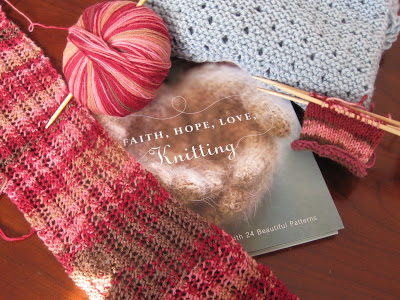 I currently have three WIPs. One is my
prayer shawl
. It is a seven-skein project, and I am on the last skein. So, I am very, very close to finishing. I think I really should just finish it before starting anything new. The next is a
lace scarf
. This is very embarrassing, but I started this about a year ago for a friend's May birthday. I am only halfway done. I really should finish it for her birthday
this
May! And lastly, I started a pair of
Toasty
fingerless mitts in January. I do not have a timeline for when these have to be done, which is nice.
Last week, someone (and I can't remember who!) pictured this beautiful book in her Yarn Along. I was instantly drawn to the title—
Faith, Hope and Love Knitting
. I immediately added it to my Amazon wish list but didn't have to wait to purchase it, as I happened upon it during this week's trip to the library. It is a lovely book, and I have queued a couple projects from it already.
Happy knitting! Happy reading! And for more Yarn Along posts, please visit Ginny at
Small Things
.