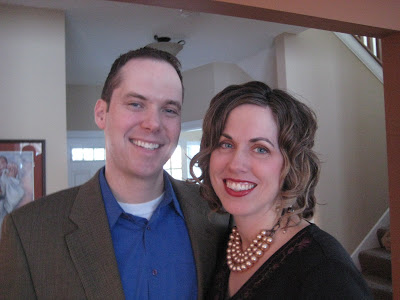 … 52 weeks of daily life in pictures: trials and celebrations, the extraordinary and mundane—whatever is unique to the week.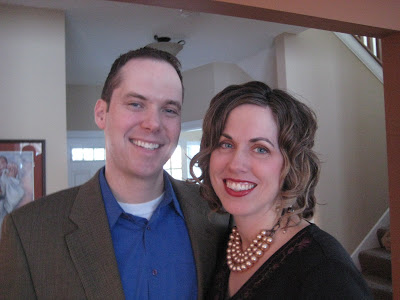 We attended our children's school's benefit dinner. It was fun to get dressed up!
The evening included a silent auction … My husband secretly bid on an item for me!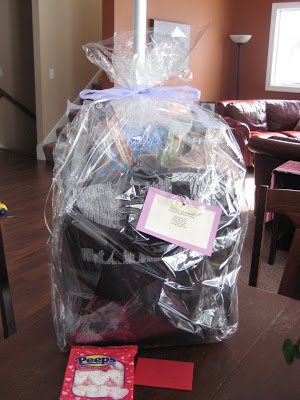 We decided to celebrate Valentine's Day on the 13th, because Monday (the 14th) was crazy for us. (Monday is the one day each week when all of us aren't home at the same time.) So, because of this switch, I received my Valentine's surprise (that secret silent auction item) on Sunday.
Let's take a closer look …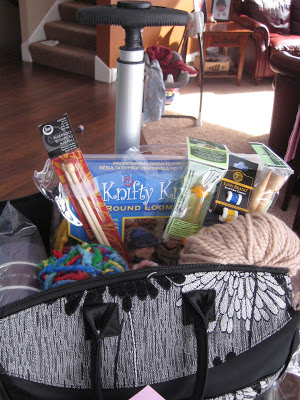 Yes! It is a knitting bag with eight skeins of yarn and various supplies!
Isn't it awesome?!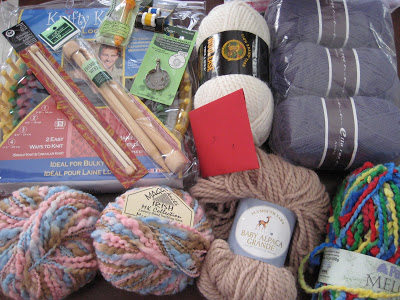 Here's an even closer look …
Maybe to some, it's not oozing with romance, but it's perfect for me! I love it, for it shows me that Greg appreciates how much I enjoy this hobby. And to me, that definitely says love!
Normally, we just give little gifts (like a small card and some token candy) on Valentine's Day, as it's not a very important holiday to us. But this was a fun surprise! And I can't wait to figure out what I'm going to knit with all this new yarn!
I grew up learning that Valentine's Day is not just for romance. It is a chance to tell parents, family members and friends that they are special. I think this helped me through all those single years when I didn't have a "Valentine." It didn't bother me. I didn't wear black. And I didn't sulk. I just celebrated with those special people in my life. I want my children to have this same outlook. I want it to be fun for them. But certainly not the "be-all, end-all" day that it is commercialized to be.
More importantly, now I have discovered the feast day behind this holiday. So, we are able to bring it back to the Lord. Who is our first Valentine, above all.
So, above are photos of my Trio making Valentine's for family members in preparation for our family celebration.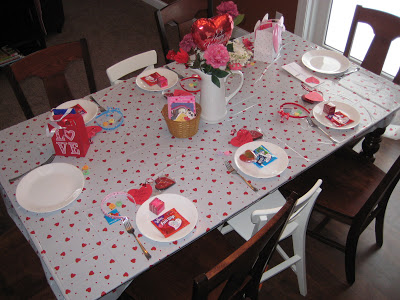 The table set for our Valentine's Day family dinner. Before dinner, we went around the table and honored one another. Whosever turn it was picked one person to say something nice about. The children did a very good job with this. And it was a lot of fun, too. We all laughed together, and it was just one of those moments I will treasure always. Perhaps a new tradition has been born!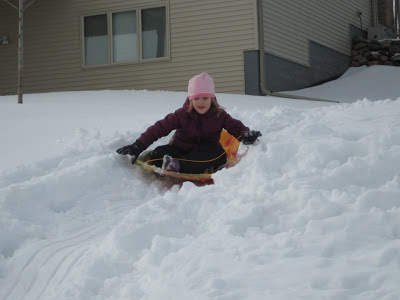 This week, it finally was warm enough to enjoy the snow! With sledding and fort building.
Certain children didn't particularly like the snow, though. Perhaps it was because she had no mittens on! Silly girl!
Well, here's to another week! And I'm now looking forward to a new weekend—a four-day weekend! (No school on Monday and Tuesday.) Hooray!!