Little Flowers :: Hope
Little Flowers :: Hope
Hope must encircle and cling to your heart like the climbing ivy.
—The Catholic Girl's Guide—
The Friday before our second Little Flowers meeting, I found myself in the ER with my baby. He was diagnosed with RSV at five weeks old. I knew that I wouldn't be able to host, nor teach, our lesson on hope. So, I made various phone calls to share the sad news.
This second meeting went on without my children. But two other girls besides mine were unable to make it as well. So, half of our group met on the scheduled Saturday, and the other half met a week later.
Needless to say, I do not have a lot of photos from this lesson!
I am grateful to
Jessica
and
Lena
for sharing their idea on how to teach about the virtue of hope by focusing on our ultimate hope of Heaven.
To illustrate hope for the girls, I drew a picture of a girl and a picture of a cloud. Then, I asked the girls to name one place they really hope to go. The farm, Disney World, a park, Belize … I wrote these places inside the cloud. Then, I asked them to name difficult tasks they might be asked to do before they could go. What are those things that are hard for them to do? Cleaning my room, helping my brother … Ideas like this were shared. And I drew an arrow from the girl to the cloud, and wrote these tasks alongside it.
Then, I erased their destinations and replaced it with Heaven. And I explained how throughout our lives, we are going to be asked to do difficult things, things we do not like to do. But if we can remember to do these things with the hope that we are moving closer to our ultimate destination, Heaven, perhaps it will be easier to make these sacrifices.
Our saint for the virtue of hope was St. Monica. What a model of hope! And our flower was Ivy (see quote above).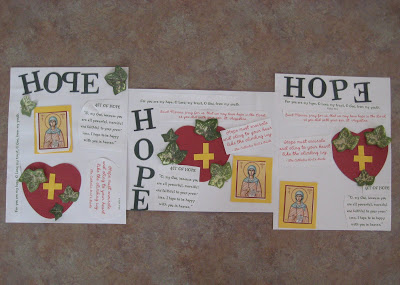 We created our hope notebook page. (I love the backwards letters ~ ha!) And for snack, one mom made adorable sugar cookies in the shape of hearts and leaves to symbolize hope clinging to our hearts like ivy!