Yarn Along :: Birthday Poncho
Yarn Along :: Birthday Poncho
I love how in a family with six children, each one of them is so unique, so different, so unlike their other brothers and sisters.
My second daughter will be turning 7 at the end of April. She is my child that goes against the grain (in a good way). She marches to the beat of her own drum. She has a carefree spirit about her, yet she is very caring of people—and animals. She loves dogs and horses, especially. She loves art and wants to learn piano. Her favorite color has
never
been pink. I love all the things that make her who she is. That is why when I saw the pattern for "A Fearless Girl's Poncho" in
Faith, Hope, Love Knitting
, it had my soon-to-be-7-year-old daughter's name written all over it.
This poncho calls for a variety of
Lion Brand
yarns, but I could only find two of them at
Joann
. So, I went to my local yarn shop and found comparable yarns there. The 8 different yarns in this pattern, when put together, create a very multi-textured and colorful garment. A lot of depth and interest. I am keeping with the blue theme, like in the book, because blue is one of my girl's favorite colors. It will look great with her eyes, too. And for some reason, I can just picture her wearing this poncho on a horse ranch. Even though we don't live on a horse ranch or anywhere near one, for some reason, that's how I picture her in it. Blue jeans and cowgirl boots and all =)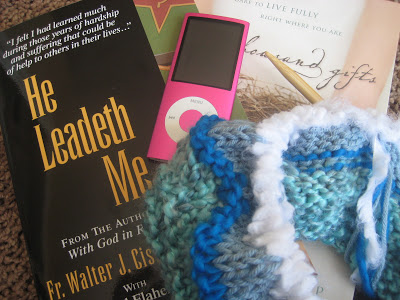 As for reading, I continue with
my Lenten program
. I am slowly, but surely, soaking in
He Leadeth Me
. It. is. excellent. The perfect Lenten companion. And I am listening to
One Thousand Gifts
. Listening to
Ann Voskamp
read her own words—with proper emphasis and expression—is helping me get much more out of her own journey toward gratitude (and inevitably is helping my own).