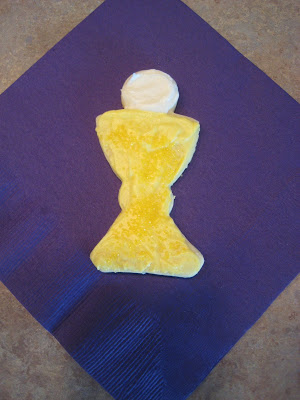 … 52 weeks of daily life in pictures: trials and celebrations, the extraordinary and mundane—whatever is unique to the week.
***
Holy Week was a very blessed week for our family, and I truly hope yours was, too. And of course, Easter Sunday was the most glorious day to celebrate Our Risen Lord. Even the weather seemed to follow along with the Triduum: On Holy Thursday night it started to rain; Good Friday was cold and wet; Saturday was still overcast but dry; and Easter Sunday was sunny and bright and warm enough to be outside for an Easter egg hunt!
Here is our week in photos. (With a few exceptions that will have to wait for separate posts!)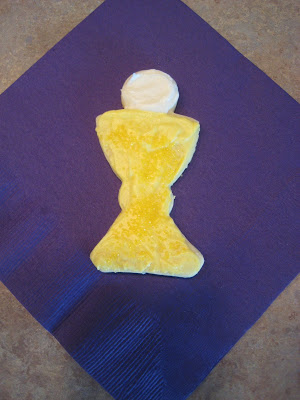 We baked and decorated
chalice-shaped
cookies for our priests. Every Holy Thursday, we try to make a special treat for them, thanking them for their priesthood and all the ways they serve our parish family. For on Holy Thursday, at the Last Supper,
Jesus instituted the priesthood
. And without our priests, we would not have the sacraments, especially Our Lord in the Eucharist. Our priests bring us Jesus, and we are so grateful to them!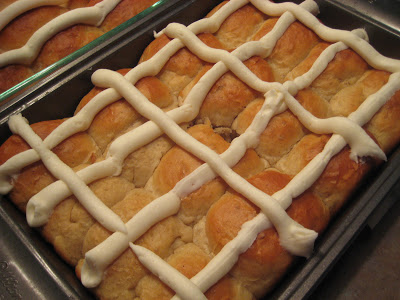 We have a tradition of enjoying Hot Cross Buns for breakfast on Good Friday. In the past, I have gone to the bakery
early
to purchase them. This year, we made them, using
this
recipe. (Thanks, Barbara!) We all agreed that homemade is better!
Holy Saturday was spent preparing for Easter. Still trying to maintain some quietness but also starting to get very excited in anticipation for Easter!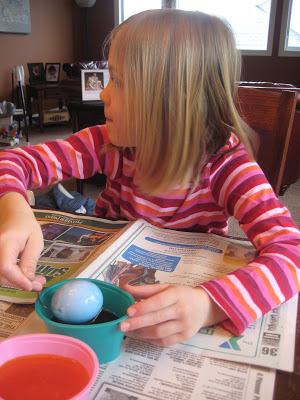 Coloring Easter eggs is always a favorite tradition!
Remember our
Lenten table
? Well, it was transformed into an Easter table overnight! An
Alleluia
sign replaced the
Repent
one. And the Good Shepherd with all his sheep arrived, too.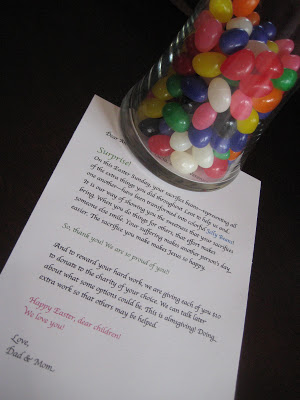 The jar of sacrifice beans turned into a jar of jelly beans, as a way of showing the children that all their good deeds, all of their sacrifices bring sweetness to others, especially Jesus. (H/T:
Nadja
for this idea.)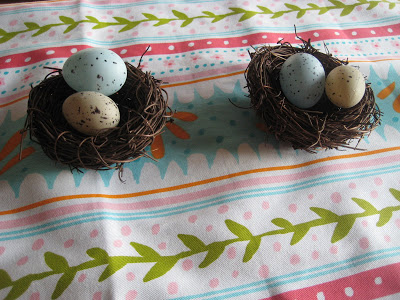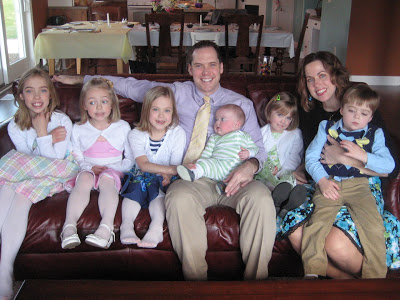 Happy Easter (again!) from our family to yours!
Christ is Risen, and you, O death, are annihilated!
Christ is Risen, and the evil ones are cast down!
Christ is Risen, and the angels rejoice!
Christ is Risen, and life is liberated!
Christ is Risen, and the tomb is emptied of its dead;
for Christ having risen from the dead,
is become the first-fruits of those who have fallen asleep.
To him be Glory and Power forever and ever. Amen!
—St. John Chrysostom—