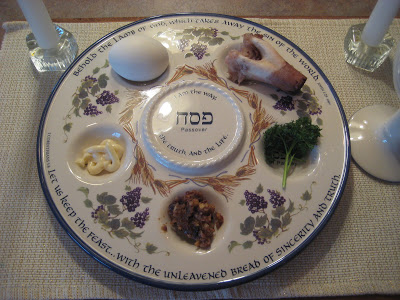 A Holy Week Seder Meal
A Holy Week Seder Meal
Looking back just a bit to Holy Week, our family hosted a Christian Seder Meal on Wednesday. We invited two other families over for a total of 20!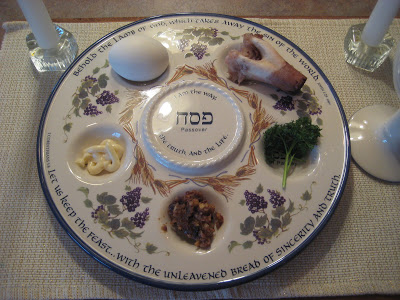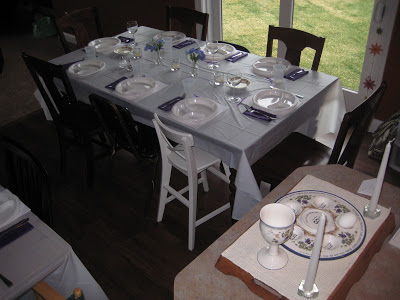 This was a wonderful way to learn more about Passover, the meal Jesus celebrated at the Last Supper.
During the spring, Christians and Jews celebrate their own feasts in their own ways. Through this Christian Seder Meal, we were able to see and experience in a very tangible way the common bond of the symbolism of the Exodus. Jesus was a Jew, and so we wanted to draw upon the traditional Jewish Seder—as well as the words of the New Testament—to help us more fully appreciate Jesus' observance of His Jewish heritage, whose laws He kept.
Matthew, Mark and Luke's accounts of Christ's sacrifice for us each begin with His celebration of the Paschal Meal:
"Now on the first day of Unleavened Bread, the disciples came to Jesus to say, 'Where do you want us to make the preparations for you to eat the Passover?'" (Mt 26:17, Mark 14:12 and Luke 22:7-9)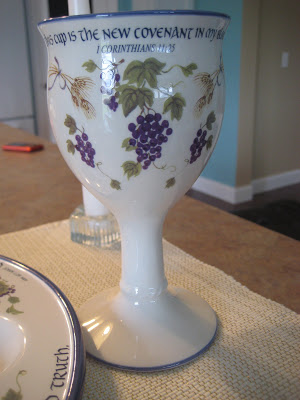 It also really helped to see how the Old and New Covenants join together, as we incorporated the Christian faith into the meal. For we know that Jesus is our Pascal Lamb, who sacrificed Himself for us. As St. Paul says, "Christ, our Passover, has been sacrificed." (1 Cor. 5:7)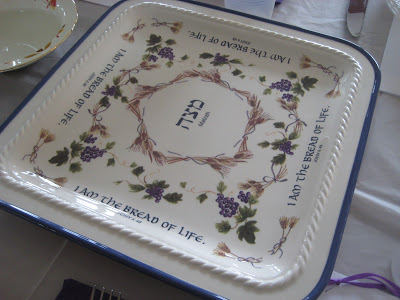 Everyone had a role. Even the children, for it is customary to have the children ask various questions about the different foods and their symbolism.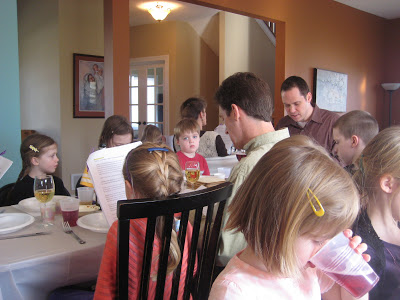 Our menu consisted of lamb,
roasted chicken
, seasoned rice, vegetables,
haroseth
,
matzah
, salad and sparkling grape juice. We had the bitter herbs and salt water on the tables, too. Brownies and coffee were served for dessert. We did our best to serve a fairly authentic meal, but we also know that we are not bound to the Jewish dietary laws.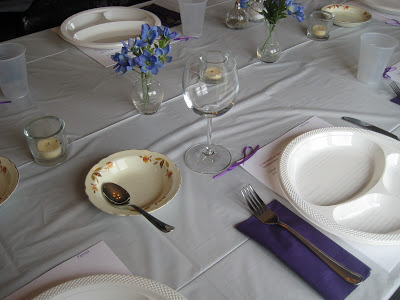 Celebrating the Seder Meal truly made the Holy Thursday liturgy come to life! And it truly enhanced all of Holy Week.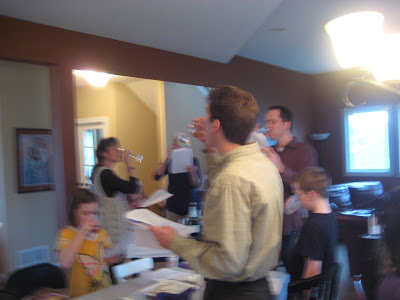 (Drinking the Cup of Blessing.)
* The Seder plate and other serving dishes can be found at
DaySpring
.