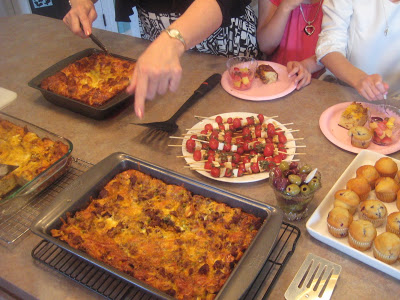 First Holy Communion Menu
First Holy Communion Menu
When we first started planning my oldest girl's First Holy Communion, I was very mindful of wanting the Sacrament to be the highlight of the day. Yes, it was a time to celebrate! But I didn't want the party or the gifts or the decorations to take away from what was really happening that day: My daughter receiving Jesus for the very first time! Nothing should overshadow that.
My daughter suggested a dessert party. (She has the biggest sweet tooth!) And while I loved the idea, I knew we also needed to serve
real
food, for we would be gathering around noon. So, we settled on brunch. I had a rough-draft of a menu in mind, but it really needed some fine-tuning. So, I consulted the author of my favorite (and only)
food blog
, and she was so kind to help me along in the menu-planning process. Thanks, Barbara!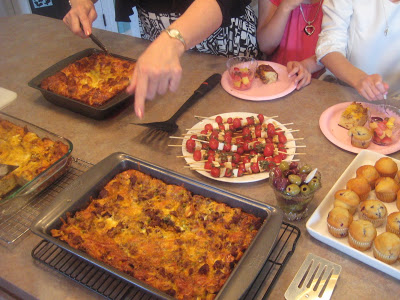 .: Brunch Menu :.
Breakfast Casserole (a family favorite made with Challah bread)
Fresh Fruit Salad
Assorted Olives
Mini Muffins
Orange Juice and Coffee
To make this meal more special, we used antique serving dishes from my mom, grandmother and even my great-grandmother. My daughter has a fondness for old things, so this really made it special for her.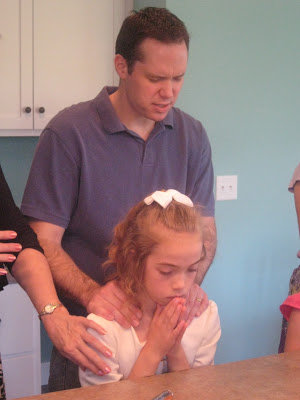 before meal prayer and a special blessing over our First Communicant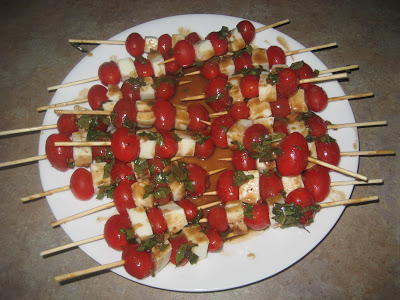 We had a dessert buffet after brunch, to keep my daughter's original request.
Lemony Angel Cake
Chalice-shaped Sugar Cookies
Brownie Bites
Assorted Candy in Pretty Dishes