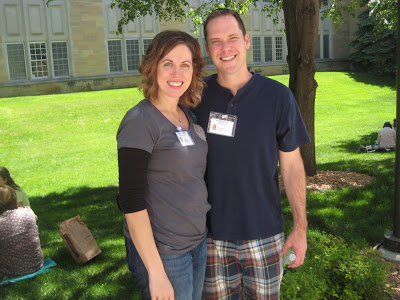 Learning Notes
Learning Notes
Attending our very first homeschool conference this weekend, as a kick-off to our very first year of homeschooling our children, was edifying and inspiring.
(And overwhelming.)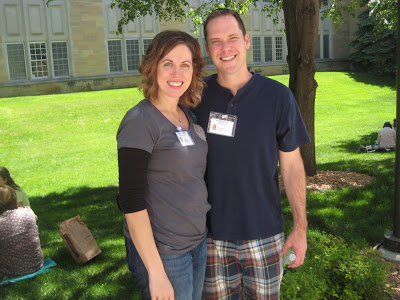 Focusing on the positive, the edifying and inspiring, the speakers were amazing! Mr. Andrew Pudewa from the
Institute for Excellence in Writing
gave me and Greg
a lot
to think about and pray about as we begin this journey. He spoke of things we desire for our family already, but his words, his passion and his scientific proof gave us greater conviction to implement what we keep talking about.
A few key notes to ponder:
Music is not a nice idea. It is essential! Start early.
Music affects auditory processing, language comprehension and intelligence.
Read the classics. But not all great minds are good!
Remember that you can't do all the good things out there, so don't worry about covering all the bases.
Read to your children A LOT! And do not stop when they start reading on their own. They still need you to read aloud to them. Read books that are a level above their own reading level. They need this, because on their own, they often skip vocabulary, they do not understand nuances or syntax. It is important to stop and ask questions along the way. (This was a BIG one for me. I just asked a friend about this very topic the other day. I often have read about others having read-alouds with their older children, and I wondered how they did it. Now, I have a much better understanding. And we started yesterday afternoon with The Search for the Madonna.)
Next, have them listen to audio books A LOT.
Memorization builds the language database.
It was a privilege to chat with Mr. Martin Cothran of
Memoria Press
and
Margaret
for a little while. Just talking with some of the people behind the scenes of various curriculum programs (that I've only heard of thus far) makes me so excited to get going! (BTW, Mrs. Cothran is extremely sweet and helped me and Greg purchase our very first piece of curriculum:
Prima Latina
!)
I also chatted with
Mr. Jim Weiss
for awhile about
Story of the World
(and all of the great books that fit into each historical period). My husband attended Mr. Weiss' talk on the importance of fathers and storytelling, too.
All of these educational gurus are so interesting and have this wealth of knowledge and yet are very humble and approachable. It was great to see the folks behind the scenes of
Bethlehem Books
and
Adoremus Books
, too. I think I could have bought everything in that vendor area, but I didn't 🙂
Another aspect of the conference that was particularly edifying was the conference attendees at large.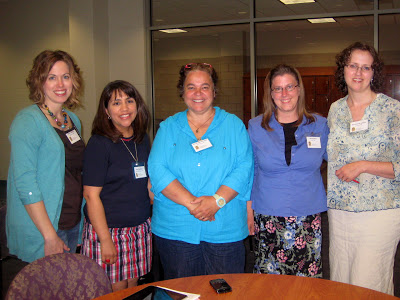 My husband and I also were edified by the number of homeschooling families we already know. We ran into familiar faces left and right, including some
old friends
, folks from our parish and even a few other families from our school who also will be starting to homeschool in the fall.
While attending such a beautiful event as this conference, I couldn't help but feel like I am not alone in this. The support is there, the encouragement is available. Online and IRL! Thanks be to God for such a network! It is a blessed time to be homeschooling, that is for sure.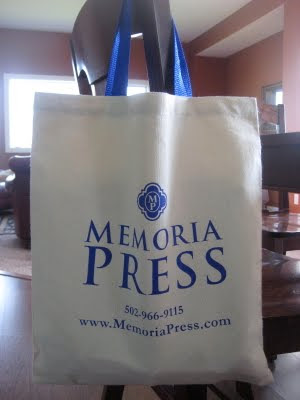 But with all of the information and the kind people came a bit of information overload. Margaret advised me more than once not to get overwhelmed. I did anyway.
However, that will have to be Part II of my recap of the homeschool conference, as I am doing my best to slowly digest all that I saw, heard and felt this past weekend.