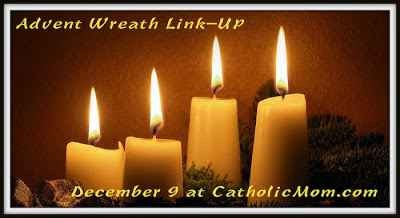 Our Advent Wreath
Our Advent Wreath
Our family has a handful of Advent traditions, but the Advent wreath is at the very top of our list. If our year is particularly hectic, we can forgo many, more optional activities. But the Advent wreath is a constant; something that keeps us grounded in hope, peace, joy and faith, no matter what's going on around us. The tradition of the Advent wreath is indeed a blessing in our family.
Our Advent wreath is nothing fancy. But it does have a story …
Back in 2009, I purchased a wreath online. I kept waiting and waiting for it to arrive. And then, I found out it was on backorder! Of course, I panicked, as Advent drew closer and closer, and we were without an Advent wreath! I remember desiring a more peaceful approach to Advent that year (OK, every year). But I realized that even though I was trying to keep Advent free from cluttered busyness, my approach was all wrong, and my perfectionism was ultimately complicating the real peace of Advent.
After getting a huge apology and refund from the company from which I purchased my wreath, I was about to throw it away, because really, I had already let go of it weeks ago when it was on back order. Then my handy husband said, "Wait! I think I can fix it." And he did.
Well, it is 2013, and this Advent wreath has remained intact and has blessed our family's Advent for several seasons now. We usually light it during dinner, and someone always blows out the candles too early or when it's not their turn. Sometimes, we'll light it after dinner, during our family prayer time, too.
This year, I added some greens and pinecones to it, because I like the natural wreath look, too.