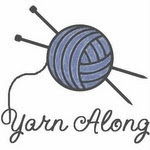 Advent Yarn Along
Advent Yarn Along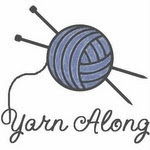 As I looked back in my archives, I discovered that I have not participated in a Yarn Along in well-over two years. You see, I took a break from this little blog, and I am just getting back into it again. It feels good to be back, and I am happy to be part of today's Yarn Along over at Small Things.
I have three knitting projects "in progress" right now, but my focus is on the Beagle Scarf for my husband. Knitted in Douglas Fir (green) Berroco Vintage yarn, I have been working on it for two years, and it is still not done!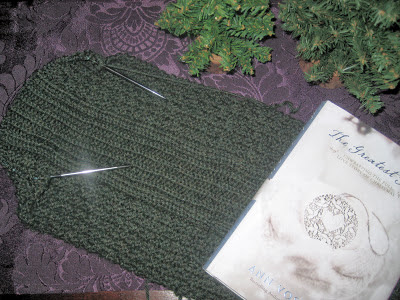 (Two years seems to be a pattern here! I haven't blogged in two years; I haven't finished this scarf in two years! What on earth have I been doing for two years?!)
The final length of this scarf is 77 inches, and well, that is very long! I need to get into a knitting groove and get it done! But with Christmas cards to mail, presents to wrap and cookies to bake, there is little time lately for knitting. (I really shouldn't even be writing this blog post, there's so much to do!)
So, I may miss another Christmas, but we have lots of winter left here in Minnesota, and he'll get lots of wear out of this scarf whether I finish it next week or next month. So, God willing, I hope to finish it this winter! Thank heavens my husband is patient with me!
I have several books in progress, too! But the one I am focusing on this Advent is Ann Voskamp's The Greatest Gift. It is a beautiful Advent devotional that goes through Jesus' lineage, kind of like a grown-up Jesse Tree. It has helped me pause during this busy season to keep the real meaning of our Advent preparations and Christmas celebrations in check. To pause and be still and not to get swept up with the ever-growing to-do lists, long lines and last-minute anxiety. It's been a blessing to read!
Happy Knitting! Happy Reading!
And a blessed last-week of Advent, too!