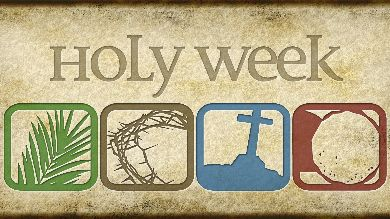 Holy Week Daybook
Holy Week Daybook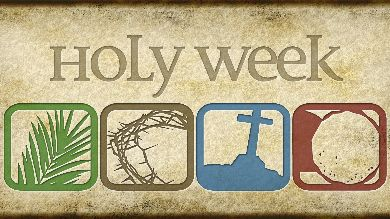 Outside my window …
… we are in the midst of a cold snap. We had such lovely spring days last week and the week before, and now the temperature can barely get to 40, and some snow flurries fell from the sky today. Not very Easter-y weather. Hopefully by Sunday, things will feel warmer and be brighter!

In my thoughts …
… are plans for the Triduum and Easter. I got out some Easter dresses from the clothing bins, but I still need to match children with dresses. I probably still need to purchase some tights and shoes.
(Where did the time go to get all of these things done?)
I hope I have the Easter basket goodies all figured out. And plans for various liturgies and traditions are underway. We have had a lot of stress within our family this Lent, so
even though I intended to keep away from the checklists
, I still do not feel like we did "enough." At the same time, I know I have limitations, both physically and mentally, so simple is OK this year. I feel closer to the suffering and persecuted Lord than I have ever felt before, and even though it is painful, I am grateful for that.

On the table …
…
Hot Cross Buns
to have for Good Friday breakfast. On Good Friday, we also have a simple lunch, sitting on the floor, of bread, cheese and grapes. On Easter Sunday, we will have traditional brunch with egg casseroles, cream cheese coffee cake, fruit, juice and strong coffee.
I am wearing …
… a fleece sweatshirt and jeans.

I am reading …
…
The Long Loneliness
by Dorothy Day. I am not far into it, but I am enjoying it very much. Even though Dorothy Day didn't grow up in a religious family, as a child she has a profound sense of the sacred. She prays, even though no one has taught her. She tries to be a saint, even though she really doesn't know of an example to follow. I am currently reading about her years at university, where her faith diminishes and she begins her plight to help the poor. She is so far away from God and any type of religion. I look forward to reading about her conversion.
Here is a quote I recently read that resonated with me. I think most of us can relate to the "long loneliness" at some point in our lives:
During that time I felt the spell of the long loneliness descend on me. In all that great city of seven millions, I found no friends; I had no work; I was separated from my fellows. Silence in the midst of city noises oppressed me. My own silence, the feeling that I had no one to talk to overwhelmed me so that my very throat was constricted; my heart was heavy with unuttered thoughts; I wanted to weep my loneliness away (page 51).
A few of my favorite things …
…
doTerra
essential oils that I'm slowly incorporating into my family's medicine cabinet.
… Flavored sparkling water that I'm trying to drink instead of soda/pop

I am thankful for …
… Jesus' merciful love for me; Mary's strong example of faithfulness; the privilege to read at the Good Friday liturgy in just a couple days
I am praying for …
… my husband and children
… the ability to recover from a financial hardship
… priests, religious and an increase in vocations
… YOU, that you will have a beautiful, prayerful and holy Triduum