Slow and Steady is Worth It
Slow and Steady is Worth It
Today, I am joining my friend Margaret in her weekly health and wellness link-up, Weigh-In Wednesday. This is a really important link-up, because we all need support and encouragement in this area. Weigh-In Wednesday, as Margaret has said, is not just about the number on the scale. While it may be for some, for others, it could be about a multitude of other aspects of healthy living. Whether we are trying to lose weight, trying to eat healthier, trying to get more active, trying to drink more water, or trying to incorporate any healthy habit into our busy days, it can be difficult when we feel alone, like we're the only one who is struggling.
I have learned, on more than one occasion, that the support and encouragement of others can make all the difference in our quest for change, transformation and progress.
The last time I linked up, I shared my perfectionistic struggle with exercise, my all or nothing mentality. That was almost a month ago. I still do not have a consistent exercise routine, but I am working on not being perfectionistic. And it's paying off, because I am exercising more, even if it's not to the "all" level I'd like.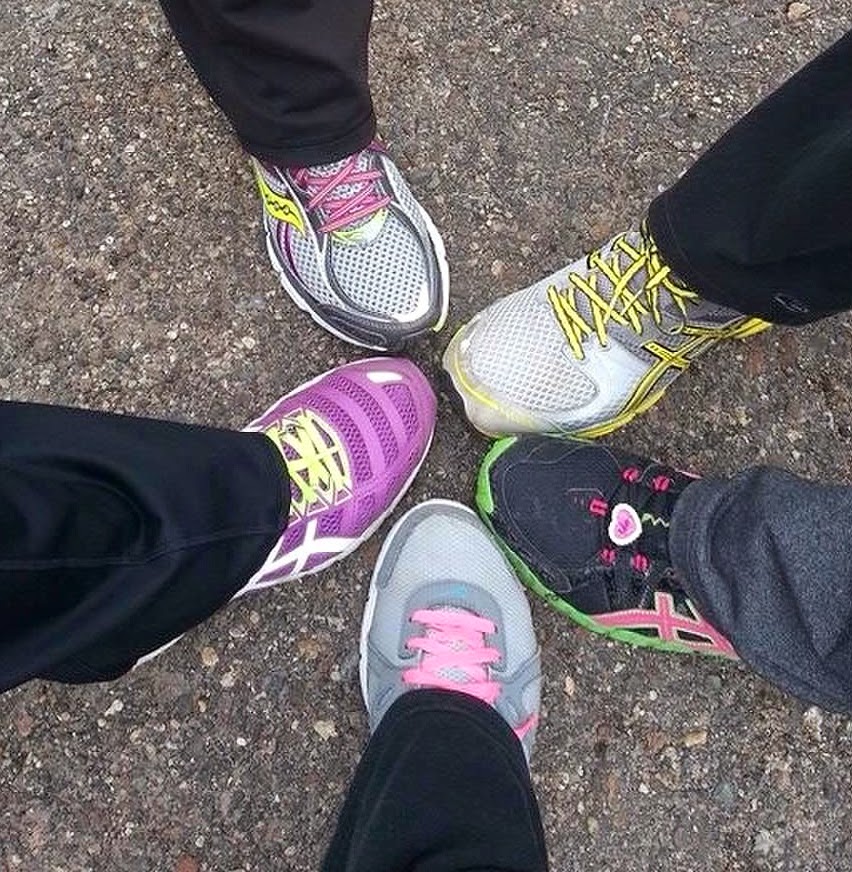 Courtesy of Becky N.
On Holy Saturday, I participated in my second 5K race, the Hot Chocolate 15/5K in Minneapolis. (I did the 5K.) When I signed up, I thought I'd have all this time to prepare myself for running 3.2 miles. But that time flew by, and except for my weekly winter bootcamp class, I really did not do much to prepare myself for my race, let alone just to be active.
I planned to walk most of the 5K and run a few intervals. And I was OK with that.
It was a breezy morning, kind of chilly, as thousands of race-goers (including some ladies from my running group) gathered near the Mississippi River to move at their own pace around the marked-off course, which included bridges, cobblestone roads, and scenic lanes along the waterfront. At the finish line was the promise of hot chocolate, chocolate fondue and treats to dip! How motivating is that?!
The night before, I made a fun little Hot Chocolate 5K playlist to listen to, which included a variety of songs from Good Morning by my 11yo's favorites Mandisa and tobyMac to Let's Get It Started by The Black Eyed Peas, because I would be " … runnin' runnin' and runnin' runnin' and runnin' runnin' …" I couldn't forget Bon Jovi's Living on a Prayer, for when I was "half way there." And I always enjoy running to a little praise music to remind me to thank God for the gift of my life, my breath, my legs, the scenery around me.
As I started out running slowly, I couldn't believe how great it felt just to move. And as I reached the mile marker and had not stopped, I was feeling stronger and stronger to just keep running. I was still running slowly but I wasn't stopping, as I passed the two-mile marker. And even though my legs were getting tired, I thought to myself, "I only have a mile to go. I can totally do this," as Phillip Phillips sang me Home.
I did it! And it felt great!
Courtesy of Karen B.
I couldn't wait to begin my second season with Moms on the Run the following Tuesday.
Now that spring is here, I think it is a bit easier to get moving. I have been able to play outside with my children, go on walks with my family, drive over to the YMCA for Zumba without having to bundle up, and start running weekly with my favorite team of moms. And when I can't, I have been more regularly throwing in a DVD to workout at home. Even my 3yo son has joined me on more than one occasion.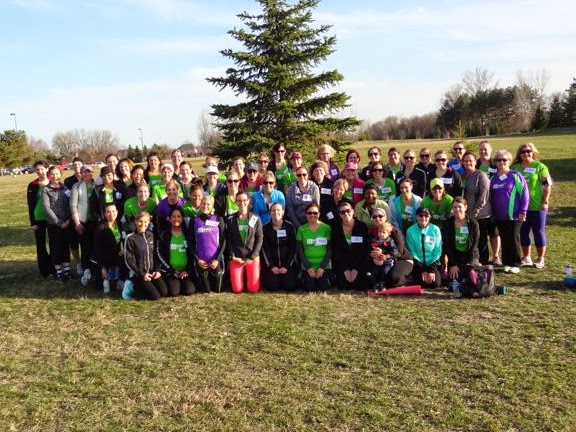 Courtesy of Kristina T.
I definitely have goals, long and short term. I have some weight I'd like to lose that is just not budging, no matter how much I exercise or now that I work for Weight Watchers. It's humbling to admit this is a lifelong journey. It doesn't come naturally or easily for me, but it is definitely something worth working on.