Feels-Like-Winter Daybook + A Month of Thanksgiving—16
Feels-Like-Winter Daybook + A Month of Thanksgiving—16
Outside my window …
It is very, very cold this morning. We're talking NINE degrees! It feels more like January than November. I am trying so hard not to complain. But it very, very hard!
"Bless the Lord, frosts and snows; sing praise to him and highly exalt him forever."
—Daniel 3:70—
Thanking God for …
This November, I plan to post 30 days of gratitude. Here is Day 16 …

63. My almost-seven-year-old daughter who worked SO hard on her saint project about her namesake, St. Veronica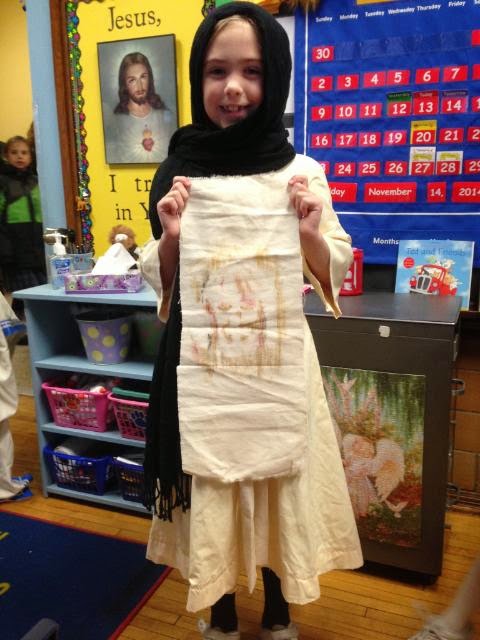 64. The privilege of staying at home, so I am available to attend saint reports on a Monday morning
65. Teachers who truly care about my kids and work with them where they are at
66. Enjoying coffee for me, hot chocolate for him with my 3yo son
67. Dinner already cooking in the Crock Pot
68. My oldest girl growing up with pierced ears
***
Linking up with fellow blogging friend Jenny from The Littlest Way. If you would like to join us in counting your blessings each day in November, please share your link or just your list each day in the comments section on her blog.
Thinking about …
* Plans and presents for my twins' birthday on Thursday
* Our plans for Advent
* A new routine and organizing my to-do list. Why, oh why can't I just begin? Why, oh why do I think I have to wait until life is just right? (Ugh.)
Wearing …
Jeans, a red sweater, light blue shirt, not-warm-enough socks, my MM earrings
Reading …
I am reading The Grace of Yes: Eight Virtues for Generous Living by Lisa Hendey. And I am still LOVING it! I highly recommend putting this book on your Christmas wish list! Or treating yourself to it now! Lisa is spreading this wonderful grace-of-yes message by hosting a Grace of Yes Day on Tuesday, Nov. 18. It will be a fun way to share how each of us says yes to God! More info. can be found here.
Creating …
* Routines
* To-do lists
* Advent plans
On the table …
Salsa chicken tonight … That's as far as I've gotten. Meal planning is not my strength.
Plans for the week …
* another saint project on Wednesday
* shopping for birthday gifts
* Luke & Veronica's 7th birthday on Thursday
* working and Anna's theater class on Saturday morning
Praying for …
* my husband and children
* friends who have asked me to pray for them
* the poor and homeless
* those we will be purchasing Christmas gifts for from our parish's Giving Tree