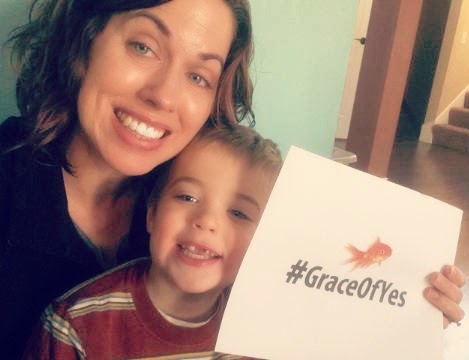 Big or Small … Sharing Your Unique YES to God — #GraceOfYesDay
Big or Small … Sharing Your Unique YES to God — #GraceOfYesDay
Today is #GraceOfYesDay! Did you know?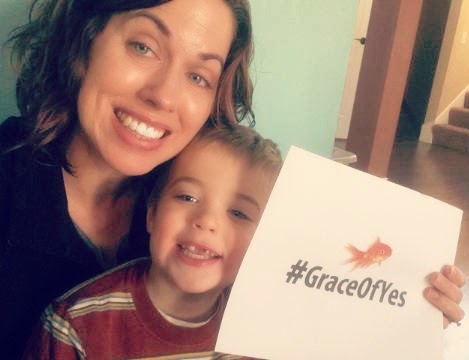 In conjunction with her brand new book, The Grace of Yes: Eight Virtues for Generous Living, Lisa Hendey is inviting us—you, me, everyone—to celebrate stories of generous living. We can share them on Facebook, Pinterest, Twitter or a blog. We can get creative with photos, videos or the written word. These can be our own stories or stories that have touched our hearts. The point is to share the joy of saying YES to God!
To date, I am on chapter 5 of The Grace of Yes, which talks about humility, and I can already tell you this book is a must-read. It is honest, real and encouraging. Reading this book is like sitting across the table from a good friend, who invites you to share the depths of your soul, all while understanding where you are coming from, because she's sharing her soul, too. At the same time, this good friend is inviting you to take your life one step further into God's grace.
In general, what I am learning from this book is that all of us—no matter who we are, what our state of life is, what we've been through, or what we're going through—are invited by God to say "yes." It might be a big YES or a little yes, but what matters is that it's your unique yes!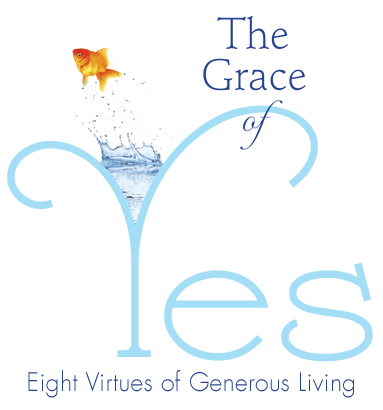 Recently, our pastor gave a beautiful homily on the virtue of alacrity, our swiftness in responding to a need, specifically when it comes to using the talents God has given us. I think his homily ties in well with Lisa's book, because even though we may not feel like we have much to give, what's important is that we give. God isn't as concerned about our ability as He is about our availability. If we trust Him, and say, "yes," with a kind of swiftness, He really will bless our efforts and fill in for what we might be lacking.
I have never really thought of myself as very talented. I don't have an amazing skill or ability that I'm known for. For example, I was telling a friend the other day that I'm just a normal mom. I'm not the crafty mom, or the cookie-baking mom, or the fun field-trip mom. I do each of these things on a (very) small scale, but mostly, I am pretty ordinary, keeping up with laundry, helping with homework and reading stories. Often, I wonder, "What kind of mom am I supposed to be?" And often I really am not sure.
In chapter 2, Lisa writes about "the maternal instincts I knew I was sorely lacking at that age." When I read this, I breathed a sigh of relief: "I'm not the only one!" Lacking anything, let alone maternal instincts, is not easy for any mom to admit, because as moms we want to be the best we possibly can be for our children. And when we don't "feel" motherly or are not sure what to do, it is very, very hard to go out on a limb and ask for help. Who would possibly understand?
I am so grateful Lisa goes out on a limb and shares her early fears of being a mom. She also shares how grateful she was for her husband who was very ready to be a dad, and again, I could relate. My husband became Dad the minute our first daughter was born. Something clicked in him that didn't click right away in me. Thankfully, God used my husband Greg to fill in for what I was lacking. And when I look back, what I have realized through The Grace of Yes is that I didn't give up. I kept saying yes, despite my uncertain feelings. And slowly, but surely, I am growing into the mom God is calling me to be. I may not be a mom who is well-known for crafts, projects, scrapbooking or baking. But I am the mom God intended for my firstborn child who was born 12 years ago, as well as for the five children who have followed her. I never, ever expected to be a mom of six! After all, I am an introverted only child! But I have to think that this plan for my family is God's way of inviting me to say "yes" to Him, while breaking me out of my fears, my comfort zone and my lack of belief in myself. I still have moments when I feel completely overwhelmed and uncertain, but at the same time, I know this is God's plan for my sanctification. And I wouldn't trade it for anything in the world. I am far from perfect, and sometimes I can struggle with feelings of regret for not being a certain kind of mom. But I also know that God doesn't want me living in the sense of what I'm not. I need to be honest and real, and at the same time hopeful for what is yet to come.
And what is yet to come for me is the rest of this wonderful book!
How about you? In what ways have you said YES to God?


For more information about joining in on the #GraceOfYesDay fun, visit Ave Maria Press.