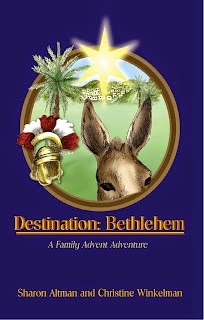 Destination Bethlehem
Destination Bethlehem
Today, I'm doing something new! I am joining Allison at
Reconciled to You
for her
#WorthRevisit Wednesday series
. Since the Advent season begins Sunday, I decided to share a book review I wrote way back in 2009! Reading
Destination Bethlehem
is a tradition in our family's celebration of Advent, and I thought I'd share it again, for those who might be looking to add a new read-aloud book to their Advent evenings.
In this revisited post, I also share some of what I was feeling back in 2009 about the beginning of Advent and how I desire it to unfold. It is interesting to realize that I still struggle with the same things five years later. I want our Advent to be meaningful and prayerful, but I don't want it to be so full of activities (even good activities) that we lose sight of the real importance of this season. It is a balancing act indeed!
***
I know it's not Thanksgiving yet, and I'm not trying to jump ahead too quickly. But Advent begins in a week and a half, just three days after Thanksgiving! I have started to think and plan a little bit … What will my family do this year to celebrate and honor this season of anticipation and preparation?
One thing that we did
last year
that I know we definitely will do again this year is read the book
Destination Bethlehem
by Sharon Altman and Christine Winkelman. I highly recommend this book, and it's probably not too late to order a copy! It consists of 24 chapters, one for each night of Advent (well, from Dec. 1-24).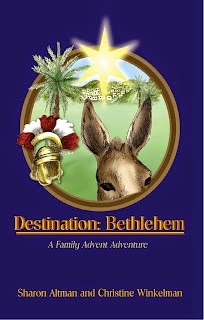 It is the story of two boys, Isaac and Jediah, as they travel through Ancient Palestine. As the story unfolds, they find themselves at the heart of the Nativity Story and gradually realize the birth of the Messiah is at hand. Each chapter ends with a cliff-hanger and builds anticipation for reading the following one. Last year, my oldest wanted to keep reading, and honestly, so did I, but we were good little readers and always waited to find out what happened the next day =)
Other than the reading of this book, I do not have any set plans. And I have been cautious to add any just yet. You see, this fall, I took on a bit too much. I thought that I could handle it. The twins turn two on Friday, and I thought that it was about time. That might be true. But I overestimated what was realistic for me to add into our family life, and now I'm trying to let go of some things and simplify once again.
So, when I think about Advent, I instantly think about it in a way that means adding more into our lives. And that gets me feeling overwhelmed. That's not the way it's supposed to be, and I know that. Hence the cautiousness.
Before I can plan, I guess I have to figure out what I can realistically do to bring my family into this season. And do so without feeling like I am going to go crazy.
I like what
one
blogger wrote about Advent plans. She said, "The Advent basket may not reflect the totality of our living out of Advent, but I hesitate to plan or put much more on paper than I have as Advent is a season we try to live out in quiet and simplicity as our hearts are expectant and waiting!"
I want our Advent to be peaceful and prayerful. I want to be peaceful and prayerful. I do not want Advent to be a time filled with the things I think we should be doing. But I want it to be meaningful and purposeful. So that we can truly feel like we have arrived at our destination—Bethlehem—ever so ready for the birth of Our Lord on Christmas Day.