Daybook :: Books, Recipes, Prayers & Plans
Daybook :: Books, Recipes, Prayers & Plans
Outside my window …
The sun is shining brightly! While much of the country is blanketed in snow, there is a lot of grass showing here in Minnesota. It is 21 degrees, as I type this out.

Thanking God for …
* A wonderful night out with my husband Greg … Two weeks in a row!
* Our Catholic school and a successful benefit banquet this weekend
* My Momnipotent study group
What a fun surprise to see some familiar faces when I opened up the Catholic Services Appeal brochure this morning! Fr. Moriarty, our school's superintendent, gave us a heads-up at the school fundraising dinner on Saturday night, calling us "the poster family for the CSA." But we really had to see it to believe it!




Thinking about …
* Whole30! I'm on Day #9. So far, so good!
* How I can get my writing to be a more consistent part of my day? As well as exercise and housekeeping. I need some better routines, I think!
* Lent! It's a week away! I am working on a Lenten post, which I hope to share tomorrow.
Wearing …
* Black yoga pants
* White T-shirt
* Blue hoodie
* I just realized I am wearing the same outfit I wore last Monday, except for my T-shirt color! Ha!
Reading …
* I just finished The Well by my new friend Stephanie Landsem. It is a Biblical historical fiction novel that centers on the Bible story about the woman at the well. It is absolutely wonderful, and I highly recommend it. A full review can be found here!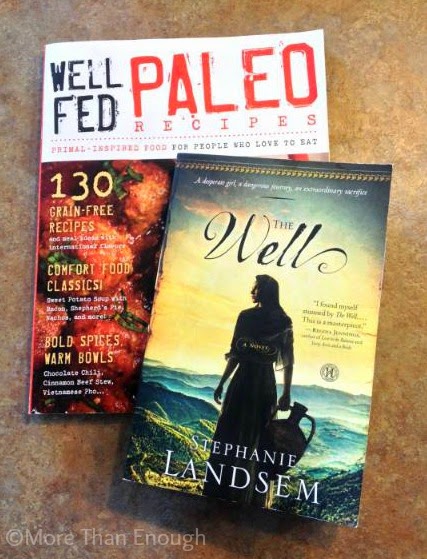 * It Starts With Food by Dallas and Melissa Hartwig. This is a book all about the Whole30 program, and it's very interesting! I am reading bits and pieces when I can.
* I am trying to come up with a book or two to read for Lent … Any suggestions?
I have set a reading goal on Goodreads: 15 books in 2015. I know it's not a lot, but I am working on small steps and being realistic in my real life. Are you on Goodreads? If so, let's connect!
Creating …
* Valentine's for my husband and children
* Yummy Whole30 recipes
* A better sleep routine
On the table …
More Whole30 recipes. My go-to source for Whole30 recipes has been a blog called The Clothes that Make the Girl. She has authored two cookbooks, but I found a magazine of her recipes at Barnes & Noble, and that has been a wonderful resource (picture above)! Yesterday, I made her Cinnamon Beef Stew that was delicious, and I also slow-cooked some pork ribs, which I had never done before. We will enjoy those tonight.
Plans for the week …
* Getting the Valentine's Day decorations out (this was on my list last week and it never happened!)
* Momnipotent
* Zumba
* Adoration
* WINE: Catholic Women's Conference
Praying for …
* my husband
* my children (especially for their health)
* family and friends, especially those who have asked me to pray for them
* all of the details of our upcoming WINE: Catholic Women's Conference
I am linking up with Jenny at The Littlest Way today! Hop on over and visit some other lovely daybooks!