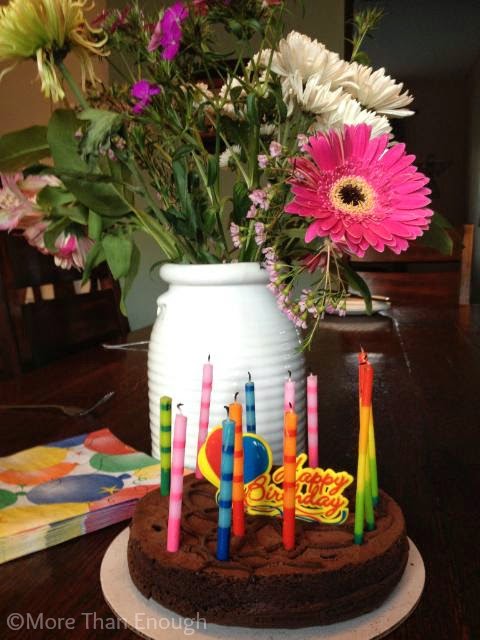 Daybook :: Birthday Edition
Daybook :: Birthday Edition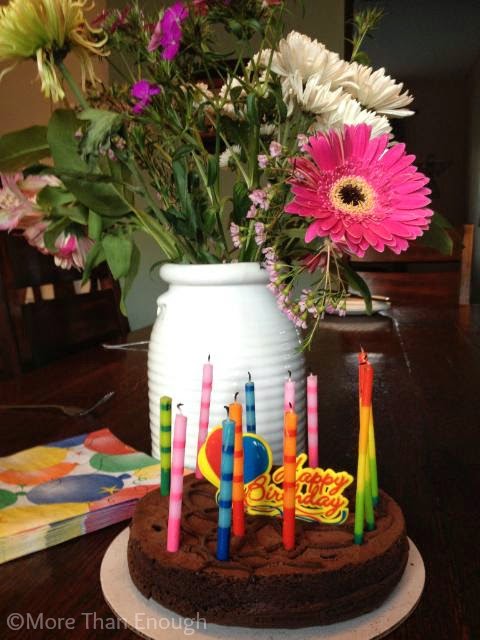 Flowers and a flourless chocolate cake for my birthday!


Outside my window …
Sunny and bright! We are having some lovely spring-like weather with temperatures in the 50s and 60s! Yay!!
Thanking God for …
* Another year of life. Today, I turn 39 years old. I have always loved my birthday. It isn't as big of a deal to me as it used to be. But it's not because I dread getting older; I really don't. I just think I am passing the excitement onto my children and letting them take over the hype and fun of birthdays. It teaches them to be generous, not just for my birthday, but for each person's birthday in the family.
* For the excitement that birthdays bring to my children. It is fun to watch them have fun coming up with their own ideas of how they want to honor the birthday person.
* A lunch date and shopping with my mom and youngest son
* Introducing me to a new saintly friend: St. Frances of Rome, whose feast day is today.
Thinking about …
At the WINE: Women In the New Evangelization conference last month, speaker Patty Schneier encouraged us to celebrate the feast days of our family members. For years, we have done this with the saints we are named after. Our list of patron saints is long in our family of eight! And it is a special part of who we are as a Catholic family!
But Patty also encouraged us to know about the saints whose feast days are on our birthdays. So today, I am learning about St. Frances of Rome! A wife and mother!
Check out this quote from St. Frances: "A married woman must often leave God at the altar to find Him in her household care." Wow!
Another connection to her already: Our family's devotion to our Guardian Angels has been growing lately. Our awareness of them in our lives, with us wherever we go. More specifically, the angels' role in the Mass … We watched a fantastic animated film The Greatest Miracle that illustrates the unseen that takes place during Mass. Well, St. Frances of Rome was given the gift of seeing her guardian angel in bodily form, because her faith was so great!
I feel like God just introduced me to a special spiritual mother! And I can't wait to get to know her even better! What a blessed birthday gift! St. Frances of Rome, pray for us!


Wearing …
* Black cowl-neck top
* Jeans
* Black shoes with NO socks!
* New highlights in my hair, including some small brighter red pieces positioned for subtlety!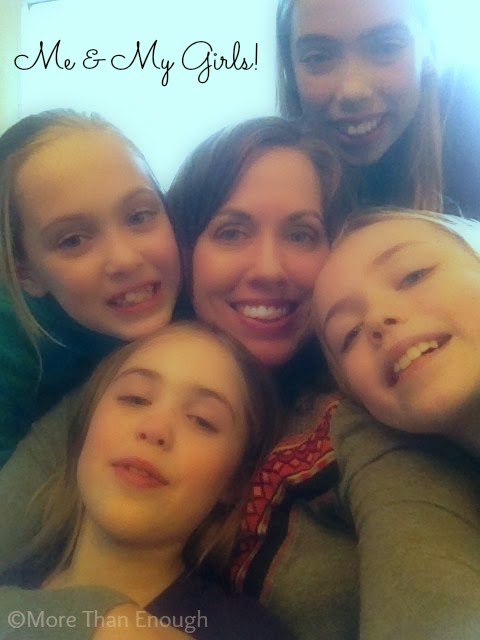 Reading …
* My Bible and The Bible Timeline Guided Journal by Sarah Christmyer. The journal guides you through the story of salvation history by reading the 14 narrative books of the Bible in 90 days (or as long as it takes you). I went through The Great Adventure Bible Study 10 years ago, and it was amazing! I have done some additional studies, too. However, I really want to read the Bible on a more regular basis and enter into Lectio Divina, praying with Scripture. So, this Lent I am focusing on it!
(Sarah also is offering a series on covenant with God this Lent, specifically by musing on the first readings of each Sunday Mass and how they take us on a journey through God's plan to save us. They have coincided perfectly with my Bible reading, reinforcing themes of God's love and His desire to save us. They have enhanced my Lent, for sure!)
* Momnipotent by Danielle Bean. I am reading this book and accompanying study with five wonderful women. We only have two sessions left. The message has been just perfect for where I am in my motherhood. It has been much more thought-provoking and self-reflective than I expected. I have loved it.
* The Accidental Marriage by Roger Thomas. I am reading this along with a book club through CatholicMom.com. And it's definitely not to late to join! We'd love you to have you read with us!
Taken from the book description: What does heroism look like? When does friendship become too costly? Do we ever truly touch one another, or are we doomed to walk alone forever? Can love survive trials, or does it inevitably wither and die? The Accidental Marriage is a contemporary story that explores these questions through vibrant, sympathetic characters whose struggles and triumphs illustrate that love doesn't always look like you would expect.
I have set a reading goal on Goodreads: 15 books in 2015. I know it's not a lot, but I am working on small steps and being realistic in my real life. Are you on Goodreads? If so, let's connect!
* A new schedule … I have been struggling with this lately! I keep falling into old habits that really don't work anymore.
What do you do when you need to change things up a bit?
On the table …
My husband made Paleo Chicken Pad Thai for my birthday last evening. It was delicious!
I have a few Paleo meals on the menu from eMeals, including spaghetti squash and meatballs, Asian burgers and chicken gumbo.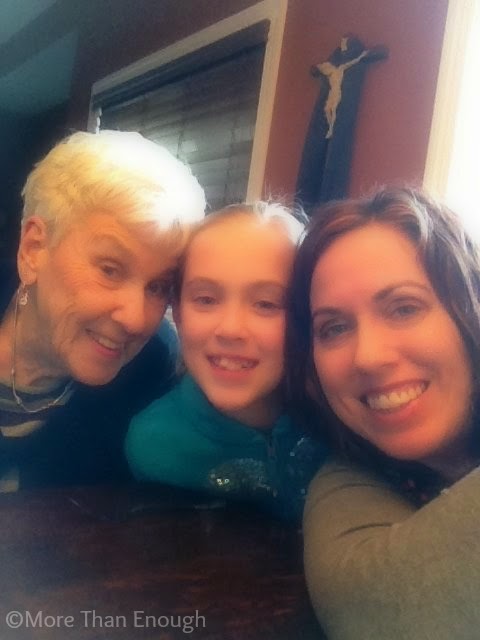 Plans for the week …
* Momnipotent
* Adoration
* Spiritual Exercises retreat this weekend
Praying for …
* my husband
* my children (by name)
* family and friends, especially those who have asked me to pray for them
* the souls in purgatory
I am linking up with Jenny at The Littlest Way today!