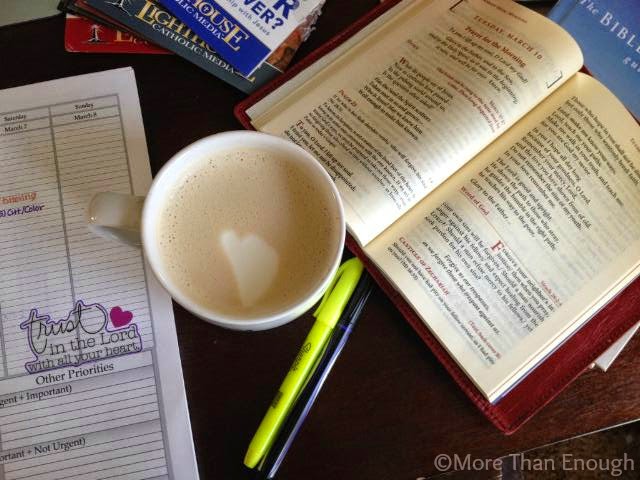 Daybook :: Doesn't Feel Like Spring {Plus Giveaway Reminder!}
Daybook :: Doesn't Feel Like Spring {Plus Giveaway Reminder!}
Outside my window …
Quite a difference from two weeks ago, when I wrote my last daybook post! It is cold and cloudy, and it doesn't feel like spring. My children are disappointed in this weather, because this week is spring break for them.
Thanking God for …
* A sure sign of God's love for me … even when I started the day on the completely wrong foot. Yes, that is a whipped-cream heart in my coffee that I didn't even try to make! I know it was from God, reminding me of His love and mercy. He definitely knows how to speak to me—through my coffee, of course!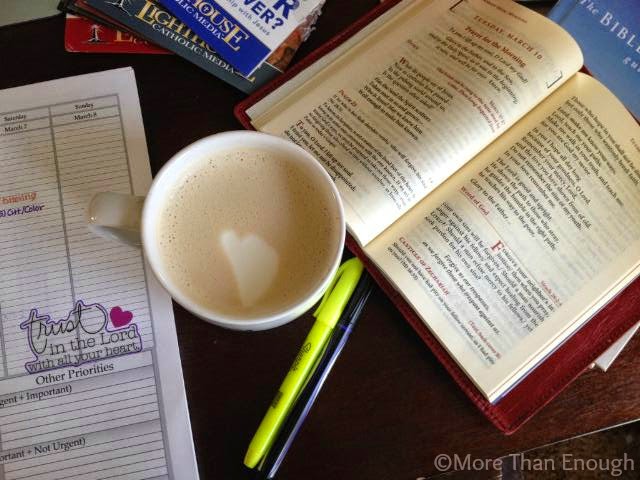 * A very powerful experience on my annual Spiritual Exercises retreat. I have been attending the Spiritual Exercises of St. Ignatius of Loyola for about five years now, and each and every year, the message God has for me is always just what I need. The format is familiar, and I love the routine and rhythm of the prayers, times of meditation and even the silent meals. Every year, it is one of the best weekends of my year. (I recently wrote about the Spiritual Exercises on CatholicMom.com, and specifically the Priests of Miles Christi who present the retreats all over the U.S. Check it out! You just might find a retreat close to you!)
* Watching my daughters work hard on their swimming and enjoy the opportunity to compete in their first swim meet.
* Spring break … Even if we're staying home and it's cold, it's nice to have a break!
* A new four-month health and fitness class I am taking.
Thinking about …
Perseverance, mercy and joy … The three key words I took away from my Spiritual Exercises retreat. (More later … maybe.)
I have been using this prayer book almost everyday for five years. It's from my Spiritual Exercises retreat. But just last weekend was the first time I ever read the following prayer. And it was just what I needed.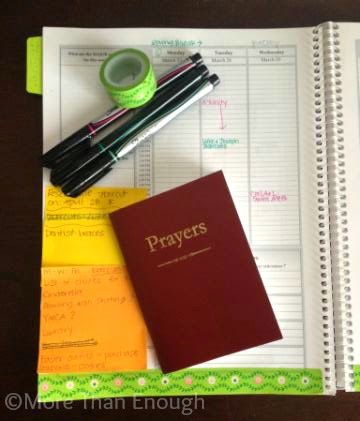 Act of Confidence in Divine Mercy (of St. Claude de la Colombière)
Lord, behold a soul that is in the world so that Thou may exercise Thine admirable mercy to make it shine before heaven and earth.


Others glorify Thee by showing, through fidelity and constancy, the power of Thy grace and how sweet and generous Thou art to those who are faithful to Thee. As for me, I will glorify Thee by manifesting how good Thou art to sinners. In me Thou will show that Thy mercy is superior to all our malice, that nothing can exhaust it, and that no relapse, however shameful and culpable it may be, should make a sinner lose hope in Thy forgiveness.


My beloved Redeemer, I have offended Thee gravely. But it would be worse still if I add to my offenses the horrible outrage of thinking that Thou art not so good as to forgive me.


In vain Thine enemy—who is also mine—sets new snares for me daily. He may cause me to cast away everything except the hope I have in Thy mercy. Even though I fall a hundred times, and my sins were a hundred times more horrible than what they are, I will always continue to hop in Thee.
Wearing …
* Green sweater
* Navy and white stripped maxi skirt
* Floral scarf
Reading …
* My Bible and The Bible Timeline Guided Journal by Sarah Christmyer. The journal guides you through the story of salvation history by reading the 14 narrative books of the Bible in 90 days (or as long as it takes you). I went through The Great Adventure Bible Study 10 years ago, and it was amazing! I have done some additional studies, too. However, I really want to read the Bible on a more regular basis and enter into Lectio Divina, praying with Scripture. So, this Lent I am focusing on it!
(Sarah also is offering a series on covenant with God this Lent, specifically by musing on the first readings of each Sunday Mass and how they take us on a journey through God's plan to save us. They have coincided perfectly with my Bible reading, reinforcing themes of God's love and His desire to save us. They have enhanced my Lent, for sure!)
* Momnipotent by Danielle Bean. I am reading this book and accompanying study with five wonderful women. We only have one session left. The message has been just perfect for where I am in my motherhood. It has been much more thought-provoking and self-reflective than I expected. I have loved it.
* The Thief by Stephanie Landsem. This is the second book in her Biblical fiction series, and it is just perfect for these final weeks of Lent! I recently interviewed Stephanie for an article on CatholicMom.com, and I am currently hosting a giveaway for her newest release, The Tomb. It is not to late to enter! I will be announcing the winner Wednesday, on the Solemnity of the Annunciation!
I have set a reading goal on Goodreads: 15 books in 2015. I know it's not a lot, but I am working on small steps and being realistic in my real life. Are you on Goodreads? If so, let's connect!
* Healthy meal plans
* Plans for Holy Week and Easter (lots to do here!)
On the table …
I have a few Paleo meals on the menu from eMeals. I also got the Paleo cookbook, Well Fed 2, for my birthday, and I plan to make Sunrise Scramble and Cincinnati Chili this week!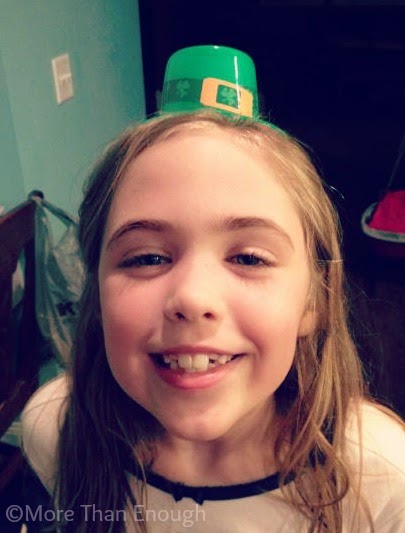 My sweet little St. Patrick's Day girl, and we're not even Irish!
Plans for the week …
* Haircuts for the boys
* Easter dress/outfit shopping—What do we have? What do we need to get? This will also serve as attire for our upcoming parish directory photo!
* Cinderella
* Confession and Eucharistic Adoration
* Called & Gifted workshop this weekend
Praying for …
* my husband
* my children (by name)
* family and friends, especially those who have asked me to pray for them
* the souls in purgatory
I am linking up with Jenny at The Littlest Way today!