80+ Trustworthy Books for Tweens, Part I
80+ Trustworthy Books for Tweens, Part I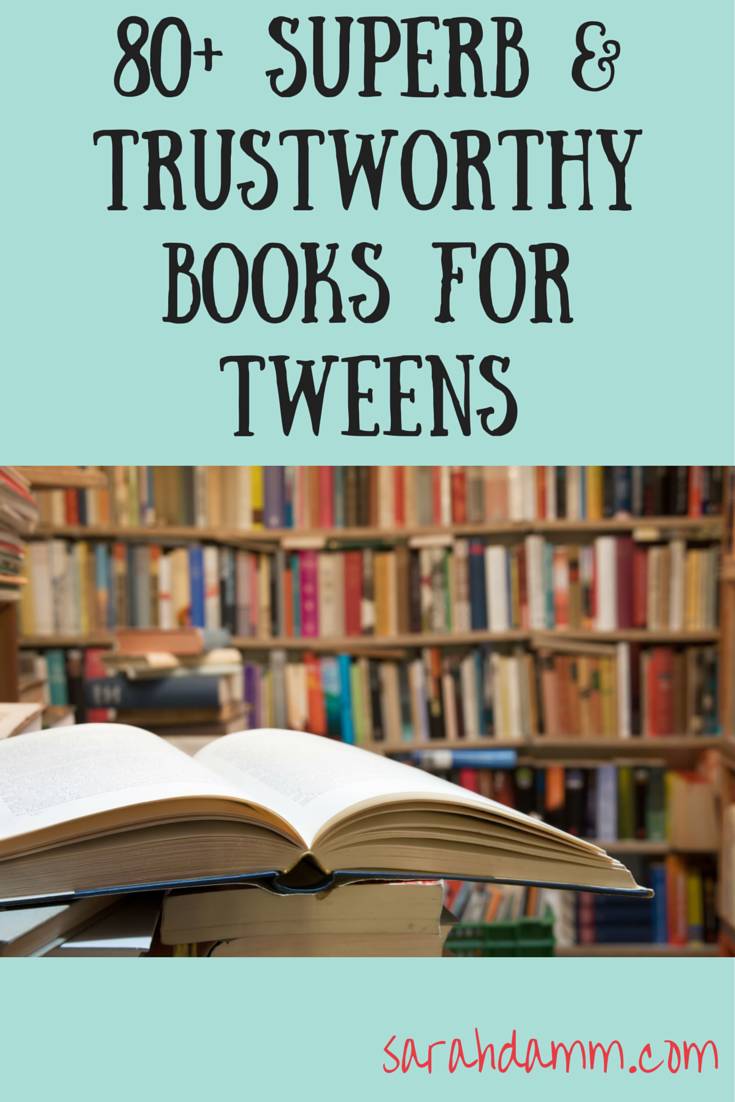 At two o'clock, I heard my little girl stirring. She was waking up from her nap, right on time. I had just completed some chores around the house, and both of us were ready to enjoy the rest of the day together.
After changing her and giving her a snack, we settled into our afternoon routine, which consisted of reading books on the couch. This was my favorite part of the day, because it was a cozy, bonding time with my daughter.
As she grew, my daughter changed in many ways. She got taller, she got more confident. She grew out of baby and toddler necessities, and now she is even growing out of things that defined her as a little girl, like dolls and the color pink.
But one thing that she has not grown out of is her love for reading.
I am grateful that she is such a bookworm. It provides her with hours of imaginative enjoyment as well as a way to keep her occupied when she would otherwise be bored. As she progresses in school, reading has naturally helped her writing ability, too.
The hard part for me is that I just can't keep up with her! She finishes a book faster than I can open the front cover. And while that is an incredible gift, it also can be a challenge when she is ready for new books, and I am at a loss for what to provide for her.
Sadly, in this day and age, I can't trust every book that is on the shelves of our local library or Barnes & Noble. Like so many areas in our society, the content that is available to children is often too mature for their innocent souls. And while I don't want my children to live under a rock, as a mother, I will do what is necessary to protect them, while my husband and I instill in them a strong foundational understanding of what is really true, beautiful and good.
This summer, I posed a question to some friends on social media, asking them for quality book recommendations that their tweens have enjoyed. I received a tremendous response, so I am going to share that list here on my blog. I figure, if I need book recommendations for my 12-year-old daughter, it's likely that other moms could benefit from them, too.
A few notes:
The list is long, and it will keep her (and any child) busy well past the summer. I am providing it in two parts, so that it isn't so overwhelming.
I made an attempt to categorize these books, but they could easily cross categories. Part I includes the largest categories: About Girls and Historical Fiction. Part II will include books about animals, family and friends, adventure, and faith, so stay tuned!
Please note that my daughter (nor I) has not read all of these books. (The ones she has read are in bold.) You will have to decide if a particular book is right for your child, or not.
Please also note that I have linked these to Amazon.com, of which I am an associate, but I am sure many are available at the local library.
Happy reading! Oh! And if you and your tween have a favorite book that's not on the list, please feel free to share it in the comments!
About Girls
Evolution of Calpurnia Tate
Anne of Green Gables
Pollyanna
The Secret Garden
A Little Princess
Little Women
Pocahontas and the Strangers
The Courage of Sarah Noble
The Cabin Faced West
The Velvet Room
Little House on the Prairie series
Little House on Rocky Ridge (and the complete Rose Years series—Little House books)
A Year Down Yonder
Tuck Everlasting
An Old-Fashioned Girl
Heidi
Historical Fiction
Number the Stars

When Hitler Stole Pink Rabbit
Roll of Thunder, Hear My Cry
Madeleine Takes Command
The Witch of Blackbird Pond
The Green Coat: A Tale from the Dust Bowl Years
The Matchlock Gun
Bound for Oregon
Shades of Gray (by Carolyn Reeder)
Counting on Grace
The Bread Winner (by Arvella Whitmor)
Calico Captive
The Reb and the Redcoats
Johnny Tremain
God King: A Story in the Days of King Hezekiah
The Sign of the Beaver
Bread-and-Butter Indian
Bread-and-Butter Journey
Becky Landers
The Winged Watchman
If All the Swords in England: A Story of Thomas Becket
Brave Buffalo Fighter
Beorn the Proud
The Borrowed House
The Bronze Bow