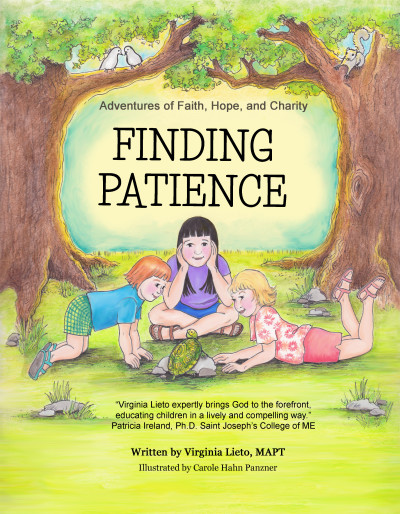 "Finding Patience" Blog Tour Stops Here … And a Giveaway!
"Finding Patience" Blog Tour Stops Here … And a Giveaway!
Moving to a new town and starting a new school are difficult transitions for families. And yet, in this day and age, they often are quite normal experiences. From my own personal experience, I moved twice during my childhood. Leaving my familiar home of 12 years, my friendly neighbors, and all that was normal was certainly a challenge. While I didn't have to change schools during that first move, my new neighborhood no longer had children my age, and that felt lonely. The next move I made was not only to a new home and neighborhood, it also was to a new school and even to a new state! While I was already 15 years old at the time, I probably could have used the wise encouragement that is found in the brand new children's book, Finding Patience, written by Virginia Lieto and illustrated by Carole Hahn Panzner. It would have taught me valuable lessons in the virtues that surely would have eased the stress of transition.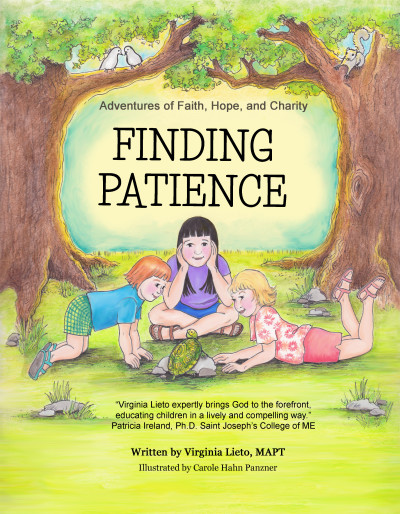 Finding Patience is about a family who has just moved. As they unpack and get settled into their new home, the sisters—Faith, Hope and Charity—anticipate starting a new school and making new friends. However, when school begins, Faith struggles with meeting friends. She feels lonely on the bus, during class and at lunch. This makes Faith very sad, and all she wants to do is go home—to her old home.
During this difficult time, Faith's mom encourages her to pray for patience. When her dad and sisters hear about Faith's sadness, they rally behind her. They encourage her and pray for her. While it takes time for Faith to make friends, she discovers that her prayers for patience bring her peace of mind and heart. She doesn't worry so much about being alone, and she is able to enjoy spending time with her sisters and their new puppy. In the end, without giving anything away, Faith learns the value of developing the virtue of patience … And that God answers our prayers in ways that are bigger and better than we can imagine.
Finding Patience is an encouraging companion for children in times of transition, such as moving or starting a new school. For all of us, it illustrates hope-filled lessons in prayer, patience, and trust in God to provide exactly what we need. In addition, Finding Patience sheds light on the important role prayer has in the family and even models how parents can pray with their children and teach them to pray for each other. This delightful book is a welcome addition to any home library, and it would make a terrific gift to share with other children in our lives, such as godchildren, grandchildren, nieces or nephews.
This review of Finding Patience is just one in a blog tour of reviews and interviews, and I am so grateful to be part of it! I also am honored to endorse the book on the back cover. Thank you, Virginia, for including me in this wonderful project! In addition, this blog tour includes a giveaway! Enter the giveaway below for your chance to win one of FIVE autographed copies of the book!
Up next: Tomorrow, the blog tour travels to Virginia's Web site, where Cathy Gilmore will guest post.