"Rightfully Ours" Blog Tour Stops Here … And a Giveaway
"Rightfully Ours" Blog Tour Stops Here … And a Giveaway
As a mom of six, I am constantly on guard about what my children read, listen to, and watch. And yet, I cannot possibly monitor every word on every page or every lyric to the latest song. I rely on trusted reviews, recommendations from other parents, and my own research. In less than a month, I will have two teenagers, and the books and movies that the culture deems worthy of their attention seem less and less in line with my Catholic-Christian morals and beliefs. It is almost a full-time job to discover what sources to trust and what sources to question. That is why I especially appreciate finding quality, moral, relevant, and faith-based media for my children, especially my teens. And today, I can safely add Carolyn Astfalk's new young-adult novel, Rightfully Ours, to the list of books I look forward to sharing with my (older) teens.
The story opens with 16-year-old Paul Porter and his brother Sean relocating to Pennsylvania, after their father is deployed overseas. While his brother works at a drilling site, Paul stays with a nearby family, the Muellers, so he can continue with school and attempt to live a normal life. Fourteen-year-old Rachel is the Mueller's daughter, and she soon becomes Paul's closest friend.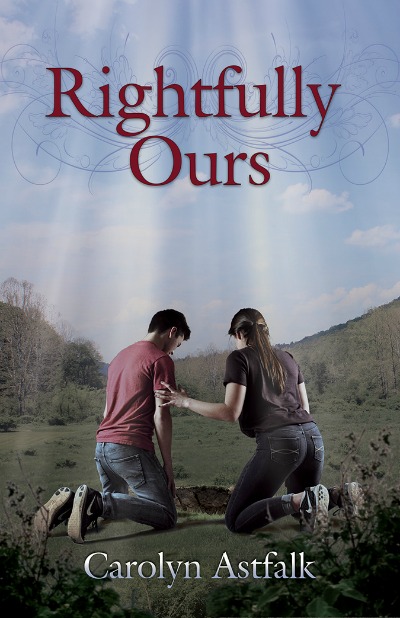 Over time, Paul and Rachel begin to feel more for one another than just friendship, but they are uncertain about how the other feels. The more time they spend together—walking to school, excavating historical artifacts in the backyard garden, and supporting one another through devastating situations—the more they are assured that their true feelings for each other are mutual.
Teenage love is tricky business, though, especially since Rachel's parents have a fairly strict dating policy—as in no dating at all! As Paul and Rachel mature, her parents learn to appreciate their budding romance. However, they are not blind to the temptations that might bubble up between them, and they play an active role in helping Paul and Rachel navigate through the ups and downs of young love. As they grow closer, Paul and Rachel's relationship experiences challenges in remaining faithful to their shared belief that sex is meant to be saved for marriage. And while they have supportive and tough-loving family members, Paul and Rachel have to learn for themselves that God's plan for human sexuality has their best interest in mind and that all good things in life are worth waiting for.
Rightfully Ours is more than a teen romance novel. It is packed with mystery, hardship, and family relationships. It illustrates various emotions, including fear, sorrow, frustration, joy, and peace, and how our faith can be a constant source of strength no matter what is going on in life.
Rightfully Ours is a coming-of-age story for older teens and young adults. (I recommend this for older teens, or when parents see fit, because there are intimate scenes within the book that require a certain level of maturity.) In this novel, young people are given a fun story that will capture their attention. They will discover relatable characters with real issues. They will experience how Paul and Rachel wrestle with purity and the stream of thought that goes into their ultimate decision. Parents will enjoy this novel, as well, and it is a wonderful tool for conversing with teens about dating, chastity, and God's plan for human sexuality.
In addition to this review, I am happy to share that Carolyn has agreed to giveaway one signed copy of Rightfully Ours to one of my readers! To enter the giveaway, please fill out the Rafflecopter form below. The book will be mailed the week after Easter.
Carolyn Astfalk resides with her husband and four children in Hershey, Pennsylvania, where it smells like either chocolate or manure, depending on wind direction. She is the author of the inspirational romances Stay With Me and Ornamental Graces and the coming-of-age story Rightfully Ours. Carolyn is a member of the Catholic Writers Guild and Pennwriters and a CatholicMom.com contributor. Formerly, she served as the communications director of the Pennsylvania Catholic Conference, the public affairs agency of Pennsylvania's Catholic bishops. True to her Pittsburgh roots, she still says "pop" instead of "soda," although her beverage of choice is tea. You can find her online at www.carolynastfalk.com.