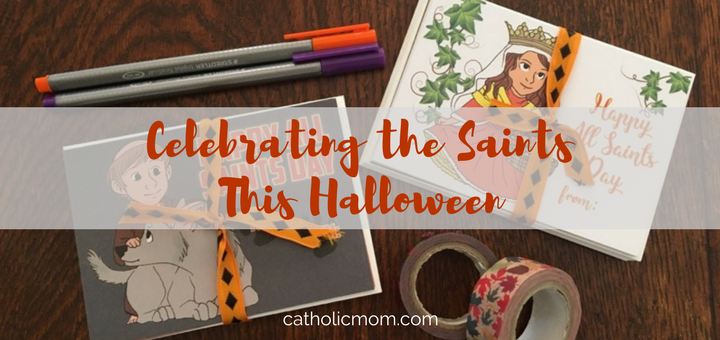 Celebrating the Saints This Halloween With New Greeting Cards
Celebrating the Saints This Halloween With New Greeting Cards
As a little girl, I was always a little apprehensive about Halloween. I liked dressing up and feasting on candy, but some neighbors down the street created this haunted house experience in their front yard, and I wanted nothing to do with it.
I don't know if I just didn't like feeling scared or if I actually sensed a type of evil in their decorations. What I do know is that it caused Halloween to be one of my least favorite holidays, which is pretty unusual for a child.
As a mom, I did not want to bring my own tainted view of Halloween into my children's experience of the holiday. So, we always carve pumpkins and decorate our home with fall décor. When the kids were young, we attended church parties that encouraged dressing up as saints or something from God's creation. Now that they're older, we enjoy trick-or-treating as a family, too.
Along the way, I have taught my kids that Halloween comes from the phrase "All Hallows Eve" or "All Saints Eve." It is a time in our liturgical year when we remember those who have gone before us, including the saints, martyrs, and faithful departed within our families.
There are countless ways to incorporate our Catholic faith into the celebration of Halloween. Conducting a quick Internet search provides all sorts of inspiration, including ideas for costumes, food, and decorating.
One way for our children to celebrate and share the saintly roots of Halloween with others is through a new line of cards from Salutare Stationery, a greeting card company that shares the Catholic faith through artwork, coordinating Scriptures, and thoughtful well-wishes. They offer a variety of styles for a variety of occasions.
To read more about Salutare Stationery's new line of All Saints card packs—featuring Saints Elizabeth of Hungary, Florian, Francis of Assisi, Gianna Molla, Kateri Tekakwitha, and Martin de Porres—please click over to CatholicMom.com.