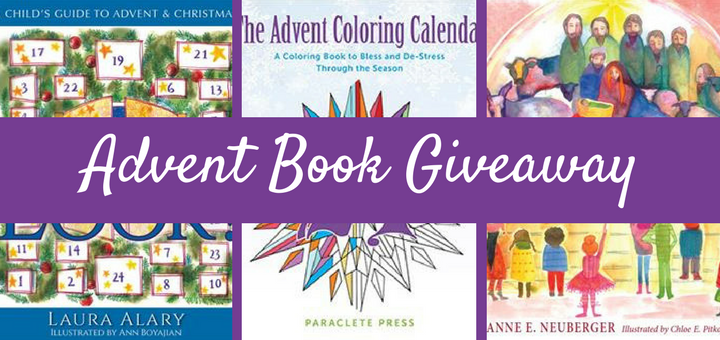 Advent Book Giveaway Prepares Families for Christmas
Advent Book Giveaway Prepares Families for Christmas
It's Black Friday. I am sitting at my computer perusing all of the sales and deals that have appeared in my inbox. I am not one to venture out on this busy day, but I am getting excited to begin the season of Advent and prepare for Christmas.
Advent doesn't begin for over a week, though. Normally, this is the weekend I unpack our Advent wreath, take out our Jesse Tree ornaments, and decorate the house with a few hints of Advent. But this year, it doesn't feel quite right to begin decorating before Advent even begins.
So, what should we do with this "extra" week? I have decided to devote this week to prayerfully considering how I want to enter into the Advent season. I am looking at this extra week as a blessing, time I normally don't have to get ready for the season of preparing the heart.
In my last post about Advent traditions, I shared how books have always been an essential part of my family's holiday season. This week, I will consider the books I want to read with my children as well as those I want to read on my own. Recently, I received some beautiful new seasonal books from Paraclete Press that I want to share with you, my readers.
Seasonal Books:
Look! A Child's Guide to Advent and Christmas by Laura Alary describes Advent liturgical traditions, the Jesse tree, and various scripture stories. It celebrates the season as a time for families to give to others through food, clothing and toy donations, caring for neighbors, or serving at soup kitchens. Look! encourages children to keep their eyes and hearts open, because God often comes in ways we don't expect. And it invites them to become part of the holy work of making Christ present in the world.
That Baby in the Manger by Anne E. Neuberger is about a Catholic, multi-cultural parish. Days before Christmas, the children notice that the baby Jesus in the creche looks nothing like them, and yet they want to identify with Him. As the story unfolds, they bring their own dolls (of different races) and stuffed animals to the manger scene. This childlike, fun, and sweet book reminds us that Jesus came down at Christmas to dwell among all of us.
The Advent Coloring Book by the editors of Paraclete Press provides a daily dose of peace and focus during this busy season. This adult coloring book is a fun and artistic way to count the days until Christmas by creating beautiful patterns, from December 1-24. Then, during the days of Christmas, enjoy coloring images from the Christmas story and favorite seasonal hymns.
Giveaway Time:
I am giving away one copy of each book described above. To enter, fill out the Rafflecopter giveaway below. There are many ways to earn additional entries. I will verify all entries before selecting a winner, so please be honest with your submissions. I will randomly select winners on Tuesday, Nov. 28.
Lastly, I am offering a FREE Advent prayer journal to my email subscribers. I would be honored if you subscribed to my newsletter. I promise that I do not send out many emails. And as a thank you, I will send you the Advent journal. How does that sound?
Good luck with the giveaway! And God bless you as you prepare to celebrate the Advent season.