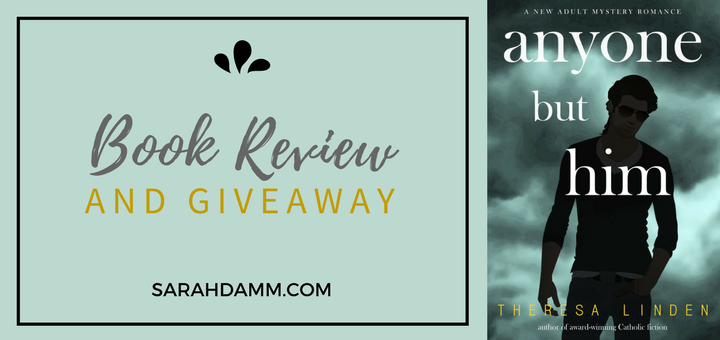 'Anyone But Him' Blog Tour Stops Here (And a Giveaway!)
'Anyone But Him' Blog Tour Stops Here (And a Giveaway!)
I am so honored to be part of the blog tour for Theresa Linden's new adult novel, Anyone But Him. In one sentence, I can tell you that I LOVED this book! In a few more sentences, I will tell you why.
But first, here is a brief synopsis of Anyone But Him:
Caitlyn Summer had always followed the straight and narrow path. Her perfect husband would love Jesus more than her and love her because of her love for Jesus. He would be faithful and gentle and have a heart for others. So how did she end up marrying the bad boy who got her high school best friend pregnant then pressured her to abort?
​Unable to remember the past three years or understand why she would've moved so far from home, Caitlyn can't believe she willingly married such an overprotective, bossy, and jealous man. In this emotionally-charged, new adult mystery romance, Anyone But Him, Caitlyn struggles to solve the mysteries of her amnesia and her marriage. Suspicious circumstances surrounding her husband tempt her to leave and start life over, but they also challenge her Christian faith and convictions.  ​
The arrival of her first love, her husband's younger brother, intent on helping her regain her memory, offers a glimmer of hope. Together they uncover secrets involving her coworkers and the local abortion clinic, but nothing to explain why she married this man. Who changed—him or her?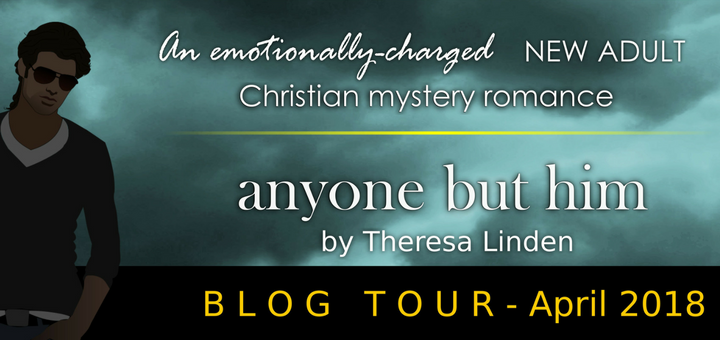 My review
Anyone But Him had me instantly captivated. Right from the beginning, it was a real page turner. I cannot imagine what it would be like to wake up one day and not remember marrying my husband. What would be worse is only recalling old, negative feelings I had for him. In this novel, Caitlyn feels this (and so much more) toward her husband Jarrett, and because of this, she is tempted to bolt many times. Who could blame her? But she doesn't, because deep down, she believes in real love and real marriage. Somehow there has to be a reason why she chose him.
Jarrett feels frustrated with the entire situation. Obviously, he loves Caitlyn, but sometimes he has an odd way of showing it. But at the same time, he shows an incredible amount of patience. He waits for her to rediscover her feelings for him, while not hiding his love and affection for her.
As the story progresses, the reader discovers why these two are together in the first place, how they rekindle their love, and how nothing is impossible for God.
In addition to the love story, which is incredibly clean and honors the Sacrament of Holy Matrimony, Anyone But Him is brimming with suspense and mystery. How did she end up with amnesia? On each page, more clues turn up, and the puzzle pieces start coming together. I couldn't help but read "just one more page," even when it got a little late at night!
Lastly, Linden weaves the Catholic faith into the storyline beautifully, and moral topics, including abortion, are carefully and thoughtfully articulated.
I highly recommend Anyone But Him by Theresa Linden! What excites me the most is that the characters in this book are part of her YA series about the West brothers, and now I get to go back and read their backstory.
About Theresa Linden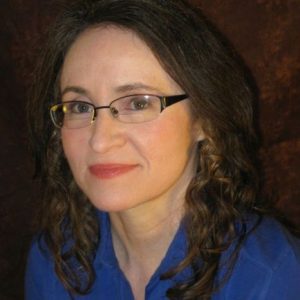 Theresa Linden is the author of award-winning Catholic teen fiction. Raised in a military family, she developed a strong patriotism and a sense of adventure. Her Catholic faith inspires the belief that there is no greater adventure than the reality we can't see, the spiritual side of life. Theresa has six published novels, and two short stories in Image and Likeness: Literary Reflections on the Theology of the Body (Full Quiver Publishing). She holds a Catechetical Diploma from Catholic Distance University and is a member of the Catholic Writers Guild and the International Writers Society. A wife, homeschooling mom, and Secular Franciscan, she resides in northeast Ohio with her husband and three teenage boys. You can follow her on Facebook, Twitter, and Goodreads.
More blog tour stops
To read more glowing reviews of Anyone But Him, please visit the other blog stops on this virtual book tour. You will find several reviews, a book trailer, a cooking video and printable recipe from the story, an author interview, and another chance to win a copy of the book!
Giveaway!
As part of the blog tour, I am happy to share that Theresa has generously offered to giveaway one signed copy of Anyone But Him to one of my readers! To enter the giveaway, please fill out the Rafflecopter form below. The book will be mailed to anyone living in the continental US. If someone outside of the US wins, an electronic version of the book will be awarded.