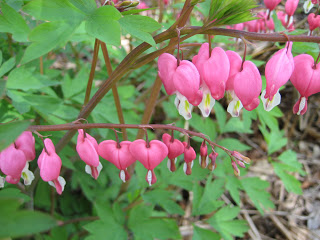 Thoughts on a Thursday and Something for Mary, too
Thoughts on a Thursday and Something for Mary, too
I haven't been here much this week, and I've missed it. But sometimes, we just have one of those weeks, don't we? When, before you know it, it's Thursday, and the next couple of days are going to be just as hectic as the last few.
We are in the midst of selling our house. After a week of negotiations, we signed a purchase agreement on Tuesday, pending an inspection tomorrow. If all goes well, we will move into a rental in June. Then, we'll wait for my mom to sell her house. When she does, we will begin building a new house, and she will come and live with us permanently. It's an exciting time! And we are grateful for the miracle of (potentially) selling our house in this market and for the opportunity that is ahead of us. But with all of this excitement comes a lot of work and stress on our family. Please, if you think of it, pray for us tomorrow.
On Saturday, after the inspection is over, we have a fifth birthday party to throw for one very special girl. We also will be celebrating with friends that night at a party in honor of a new Ph.D. that we know. And then it's Mother's Day. I hope it will be relaxing; that's really all I ask for.
We noticed these blooming in our yard a few days ago. We've been so busy, they sort of surprised us with their presence. Bleeding Hearts can easily belong in a Mary Garden. The religious name for them is Mary's Heart. Aren't they beautiful, just like Mary's heart? When we settle into our new house, I hope to have a small garden devoted to Mary … I think it would be a lovely thing to do in her honor.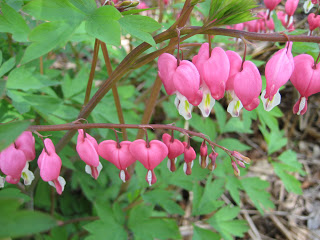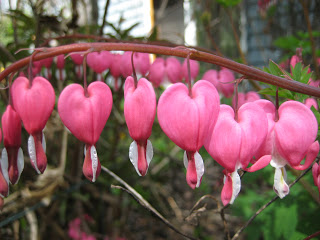 Well, I must go and clean! Have a blessed weekend! I hope to "see" you soon.