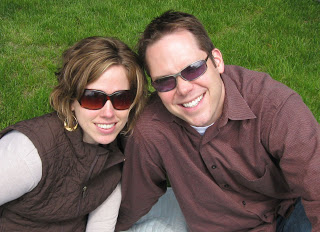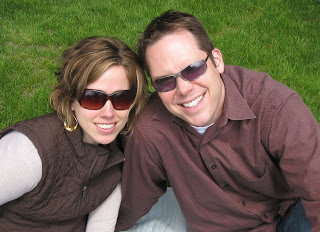 I don't know about you, but around here, it's pretty rare to capture a photo of just me and my husband. Let alone a good photo. We have but a handful. Really.
In fact, I still have a wedding-day snapshot sitting on my nightstand in this cute wood frame that says together with two stick people sort of etched into the bottom. It seems a bit dated, after nearly 8 years of marriage and 5 children.
So, I was pleasantly surprised to receive an updated photo of us from my MIL a few weeks ago. I meant to get it printed out for my hubby's birthday, but that is the one downside of digital—I forget to make prints of photos, because as you now know, I rarely update frames and when was the last time I scrapbooked?
Since it was my husband's
b-day
on Sunday, though, I will honor him with another post and this new, and pretty good, photo of just the two of us.
And, Greg, I do promise to get you a copy for your desk. Thanks for your patience, as always. Love you!