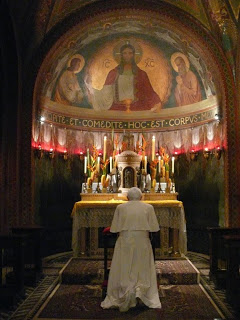 Continue Praising
Continue Praising
Then [Jesus] led them [out] as far as Bethany, raised his hands, and blessed them. As he blessed them he parted from them and was taken up to heaven. They did him homage and then returned to Jerusalem with great joy, and they were continually in the temple praising God.
—Luke 24:50-53
Isn't this a beautiful photo of Pope Benedict XVI?! It really captivated me. And this Scripture passage by St. Luke went so well with it, this being his feast day and all …
(Thanks to the kind lady who e-mailed it to me!)
+++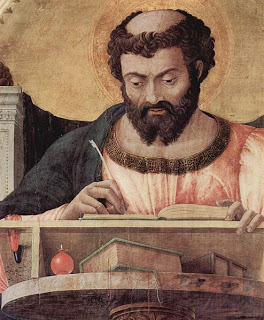 St. Luke
Apostle, Evangelist, Martyr
Feast Day ~ October 18
St. Luke, ora pro nobis!
+++
Now doesn't this tie in nicely with
Jennifer's
Praise
posts? I thought so!
So, here is my list of praises for today:
1. Praise God for a beautiful fall day!
2. Thank You, Lord, for the opportunity to take a fun, family hike and enjoy your incredible creation.
3. Praise God for homemade oatmeal butterscotch cookies.
4. Praise God for the opportunity to witness a wonderful couple receive the beautiful sacrament of holy matrimony last night.
5. Thank You, Lord, for a date-night with my husband!
6. Praise God for health.
7. Praise God for my husband, children, family and friends.
8. Thank You, Lord, for loving me unconditionally.