Craft Basket Wednesday
Craft Basket Wednesday
I am so excited to participate in this meme this week. I've missed it for a couple weeks, because with the move, I just didn't have time to take photos, let alone post them, of my newest creation. But I did carve out some time to work on a fun, new project. It was a piece of calm in the midst of the storm, for me.
Two weeks ago, I joined a knitting workshop at one of the local yarn shops. It's a project-based workshop, so you simply bring in your current project, get two entire hours to work on it, get help with stumbling blocks, and learn new techniques that pertain to your project. My goal in going was to figure out what would be a good next step in my knitting. The instructor and I decided on a hat. For me. We picked out yarn, and she set me up knitting in the round. Yay!!
I return to the workshop tomorrow to learn how to start shaping the top of the hat, decreasing stitches and working on double-pointed needles!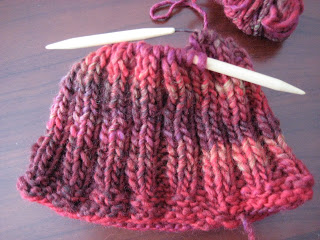 I am so excited to be learning how to knit on circulars and DPNs, because many of the projects that I'd like to try call for them.
Oh, and I might create a cute, short scarf with a button closure to match my hat. The shop keeper kept calling it some fancy name, but for the life of me, I can't remember what it is.