Grocery List Helper
Grocery List Helper
Something that I've been using for awhile now, that I find very helpful in making my weekly grocery list and in remembering those little household items that we run out of on any given day, is this "time to get" list.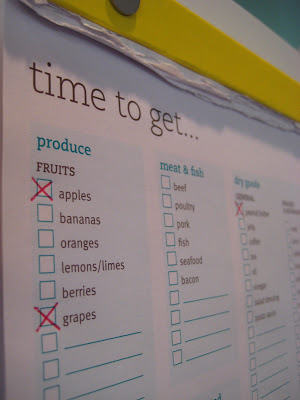 I found it at my local
SuperTarget
, in the stationary/office supply area.
What I like about it is that it is magnetic, so it neatly stays on the side of my fridge. It remains accessible, without getting buried in a pile of bills or school papers. Also, it already contains a good number of common foods and household items—next to cute little boxes—so all I have to do is check off the items we need. Plus, there are plenty of lines for those items that pertain to our unique household.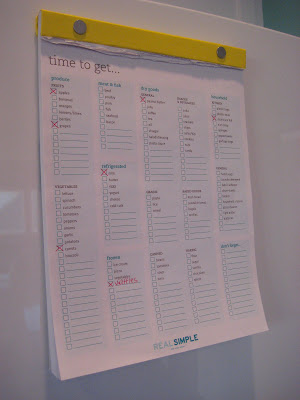 Of course, I do still forget to get things at the store. But I also think that my forgetfulness has become a bit less frequent with the help of this list. And if I keep the list going throughout the week, I don't feel the need to make little trips to the store to buy things when we run out of them. I simply put them on the list and then get everything in one single weekly grocery trip. (I do think this is helping the budget, too!)
Just thought I'd share a helpful home-keeping tip on this first day of a new school/work week. Is there a product or system or idea that you have discovered that has been helpful in streamlining your homemaking duties? If so, please share!
Oh, and happy Monday!