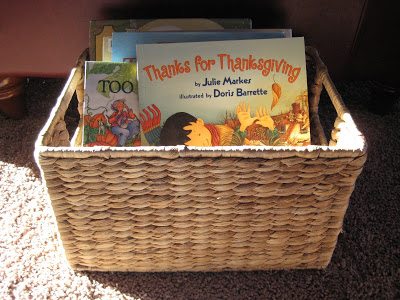 Fall Book Basket
Fall Book Basket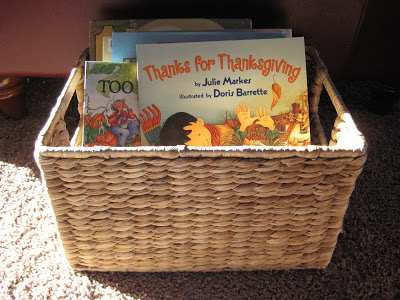 A basket, devoted to seasonal books, sits in our family room. This time of year, I love the books that this basket contains.
Fall books. Some of my favorites.
Here is a rundown of what's in our fall book basket. Some all-time favorites. As well as some new-to-us ones, too. I try to purchase one or two each year to build up our collection. But I also rely on our library to fill in.
It's Harvest Time! (couldn't find a link to this one)
There's even a couple for my toddling twins:
Here is our Thanksgiving collection, thus far:
An Old Fashioned Thanksgiving (This one is coming soon to our book basket. On its way from Amazon. We read it for the first time last Thanksgiving and loved it. Hopefully reading it every holiday will become a family tradition.)
Do you have some tried-and-true favorite fall books? Or have you discovered a new one this year? If so, please share the titles in the comment box. I'd love to keep adding to our list, and I'm sure others would be interested, too.
Have a fabulous fall weekend! The last weekend in October! Can you believe it?