Knitting New Friendships
Knitting New Friendships
Overall, it was a very simple pattern. And a quick knit. (It is small, after all!)
But when I got to the very top, I needed help. So, I went to my favorite yarn store for some assistance to make that fun little tassel at the top. It wasn't too difficult, but it required some new skills, like casting on at the end of a project (rather than at the beginning).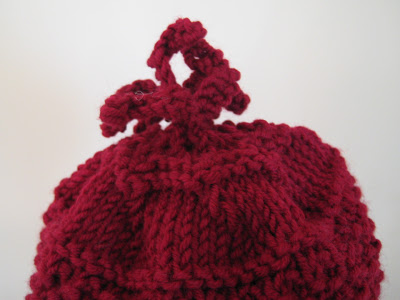 It felt good to finish this little project in plenty of time for my baby's arrival. (I am 34 weeks along now.)
But what was probably even better about my little excursion to the yarn store was who I had the privilege of meeting up with there.
Margaret. Of Minnesota.
She has a delightful blog and is even more delightful in person. Truly.
(We actually met briefly once before. We ran into each other at the pediatrician's office last year. Our children were all getting flu shots. Amazing that we recognized one another from those tiny blogger photos! LOL)
Of course, I have no photographs to prove that I met up with Margaret at the yarn store. I am not a real blogger, like she is. Sure, I have a blog. But am I a blogger? I'm not so sure.
You see, that camera that she has is a natural, physical extension of her. I'm not kidding. She floats around with it taking beautiful photos of all sorts of things (and people, even total strangers).
While my camera sits shyly in my purse. At least it did on Sunday.
And even when I do take photos (like of my Cute Noggin Baby Hat), they are not always great. I have a lot to learn about photography. But I'm OK with that.
Anyway, Margaret wants to be a knitter. And I bet she'd be great at it. She even bought some pretty blue yarn. And I promised to assist her, if I possibly could. Which would be so much fun, since I do not know many gals in my close proximity who like to knit.
And I, well, I am about to have my sixth child, and she has six children. (I don't know many families with more children than mine, so it's nice to have some company.) And she homeschools, and I am just starting to discern homeschooling …
These things seemed like beautiful reasons to get together. Wouldn't you agree?
Plus, we actually do live quite close to one another. A rarity in this virtual world.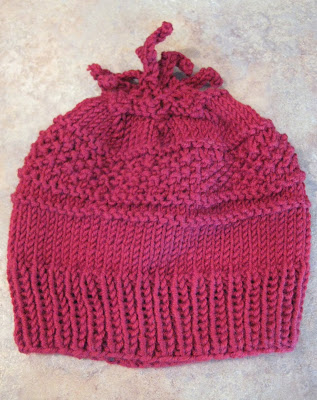 So, after a bit of yarn shopping, she treated me to coffee, in honor of my little man's upcoming birth. Wasn't that sweet?
We had a wonderful afternoon visiting.
And I was reminded of the fact that it is truly a blessing to be women of faith, because our faith becomes an instant connection for us. A common ground. And a big one at that.
It's not just that we happen to shop at the same stores or we enjoy similar movies or we can't live without the same lipgloss.
It's not so trivial. It is eternal.
It is that we believe in the same God. Have devotions to the same Mother. Try to live a life in accordance with His will. Stumble in similar (or different) areas, but still have the experience of stumbling. And, in faith, get up again, striving over and over (and over!) again for holiness.
Our beautiful Catholic faith brings us together and allows us to share in this great life of being Catholic mothers. The challenges and the joys. The questions and the certainties …
Sharing all this over some soft, pretty yarn, and a delicious cup o' joe.
Who could ask for a lovelier Sunday afternoon? Certainly not me.