Yarn Along V
Yarn Along V
Each week, I have been enjoying the Yarn Along that Ginny at
Small Things
hosts. I have been truly inspired by all of the projects and have received a lot of wonderful book recommendations, too.
With the baby hats I've made recently, my son kept asking me to make him a hat. Multiple times per day, he would ask me, "You make my hat?"
So, I affectionately named this hat "You-Make-My Hat!"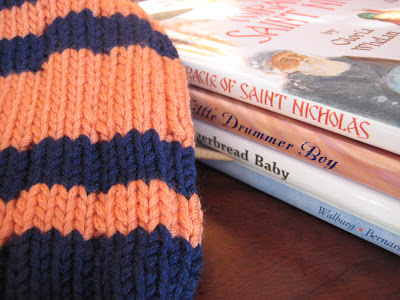 I used up yarn from my daughter's
twirly skirt
, which I still haven't sewn together (ugh).
I was going to make the hat blue, orange and yellow, but my son told me he doesn't like yellow. So, it is just blue and orange =) The one thing I am uncertain of about this pattern is the purl decreases. The pattern says to purl two together through the back, but I tried that, and I didn't like it. (Maybe I was doing it incorrectly?) The pattern also says you can do a regular p2tog, so I did that, but I am still unsure.
Fretting about my hand-knit hat being "just so," I then read a little quote from my Advent book
Joyous Expectation
. To give some context, the chapter is talking about how the busyness of the Advent season can make us feel like the backside of woven fabric. So many things we "should" do, it can appear to be a tangled-up mess-of-a-time. But through prayer, we can turn the tangled mess over, and the true masterpiece of the season will be revealed to us.
The quote that I thought applied to my knitting said: "As the Amish make their prized quilts with an intentional flaw, a flaw must be woven in to remind us that only God is perfect."
Did you just read that?
An intentional flaw! Because only God is perfect!
Oh, did I need to read that!
This quote helped me let go of the desire to knit the perfect hat. Does it really matter if the purls are right or wrong? What matters is that I made this hat for my son, and he will like it and won't even know of its imperfections. It is a gift, and no gift—but Jesus—is perfect.
Anyway … that was my little lesson for the week =)