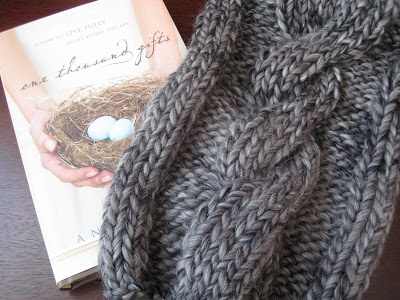 Yarn Along on a Cold February Day
Yarn Along on a Cold February Day
Real temperature as I post this: -7 degrees! It feels like -18!! (Hence the title =)
It's been a couple weeks since I've participated in a Yarn Along, and I've missed it! But ever since
my son was in the hospital
, I just haven't had a lot of time to knit. He is certainly on the mend, thank God, so I recently was able to finish my
Milo
vest (pictures
here
). And I just cast on a brand new project this past weekend. It's good to be back with all of you, sharing our needle-art projects and current reads.
For her December birthday, I presented my mom with a gift certificate for a hand-knitted item of her choice. But with my son's
birth
, Christmas and then with my son's illness, I hadn't had the chance to start it until now.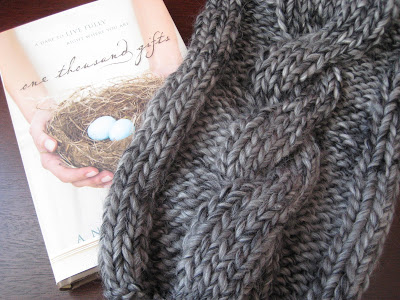 For her gift, my mom chose a neck warmer (or pidge), which is a shorter scarf secured with buttons. The pattern was free at the yarn shop I frequent. The yarn is
Rowan Drift
in Sombre.
As for books, I just started reading
One Thousand Gifts
. I'm only on chapter two, but I really like where it's going … I have a feeling it will be a book that takes me a bit of time to read, simply because it is so full of thought-provoking ideas, words on which to meditate and other things to offer in prayer.
Well, that is all for this
frigid
Wednesday! For more Yarn Along inspiration, visit Ginny at
Small Things
.