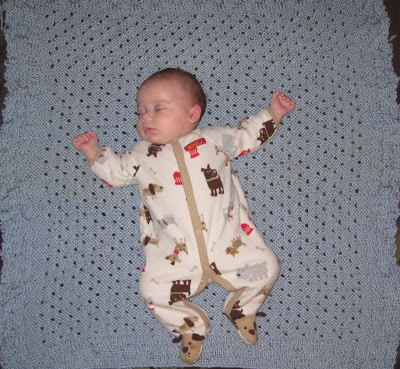 Yarn Along :: Completed!
Yarn Along :: Completed!
This week, I set out to finish one of my
WIPs
before starting anything new. And I actually did it! Hooray! =)
I finished my prayer shawl. After nearly one year of knitting it on and off … and on and off again.
(Here is my 10-week-old son modeling what a cozy prayer shawl this really is!)
I will be donating it to a local convent that gives prayer shawls away to ill members of their community.
As for books, I haven't read anything this week. I meant to start
The Forgotten Garden
, because it was my turn on the request list at the library. But I just didn't have the time to sit and get into it. I don't know if I will start it—let alone finish it—before I have to return it. (And of course there is no renewing it, because the request list is very long, I am sure.)
Well, that is about all. Not too exciting, but I am very happy about finishing something that had been on the needles for so long =)