A Place to Pray
A Place to Pray
When we started the process of building our home, one small feature that we really liked in our house plan was a little alcove at the very top of the stairs.
It consists of a small window and nice amount of space. This little space could easily be a study area or even a play area.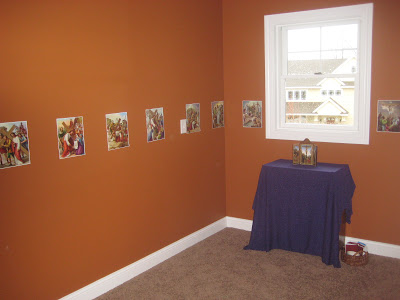 But we have designated it for: a place to pray.
I have many ideas in my head for how this space could look. Until Lent, though, it was completely barren. With the move into our home, the birth of our new son, his illness and the busyness of life in general (not to mention any extra monetary resources, it just hasn't been at the top of the priority list to decorate this space.
But with Lent, I decided to use what I had (mostly) and come up with a space we could use during this quiet, sobering season.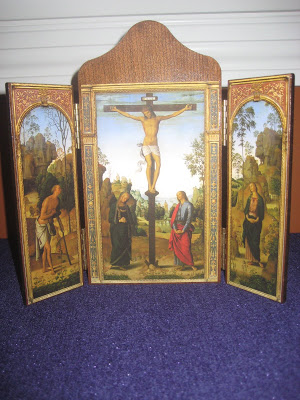 I draped an old TV cart with a purple cloth to create a prayer table. I was looking for a Crucifix that could stand on the table, but the ones at our Catholic bookstore were very, very expensive. Then, I found a Crucifixion Triptych, similar to this one, which works very well, I think.
I also posted all of our Stations of the Cross around the perimeter of the room. We keep our basket of prayer books and rosaries up here, too.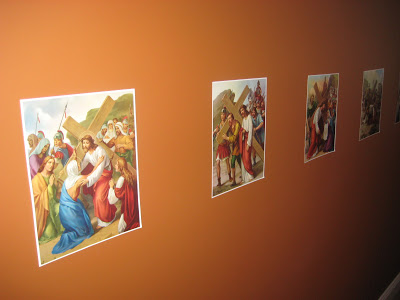 This Lent, we have slowly started praying our family prayers in this space. And it has been so wonderful! While we still pray plenty of family Rosaries in the living room, it also is nice to have a designated place to pray that takes us away from our everyday distractions of comfy couches, books, knitting and puzzles.
I don't know how this space will be transformed after Lent, but slowly and with much care, I am certain it will grow into a simple and quiet (and permanent) place to be together as a family in prayer.