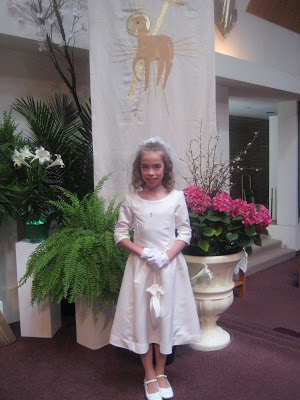 A Glimpse at First Holy Communion
A Glimpse at First Holy Communion
My daughter's First Holy Communion was so beautiful! The day was filled with prayer and grace and joy. I cried. Knowing Jesus was coming into her heart in such a real and special way. Words cannot express what I felt for my daughter. How my faith in the Real Presence was deepened.
I will share more soon. Especially about her dress and a few other things we did.
Your responses to my questions
a few months ago really gave me the boost I needed to begin planning this memorable day. Keeping the Sacrament as the focal point. And yet also celebrating in a special way. I hope you will be interested … In the meantime, I will give you a glimpse of her special day.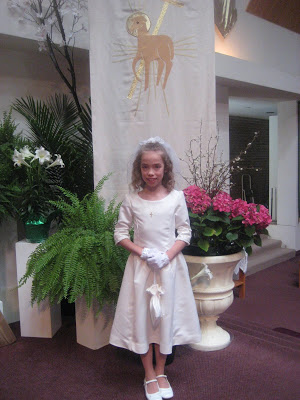 Dear Child of God,
How fortunate you are!
Jesus, the King of Kings, your Creator, comes down from Heaven and waits for you upon the altar!
He is so happy to see you. He has waited from eternity for this moment, to share Himself with you in the Holy Eucharist.
Look at your angel, he is so proud to be with you, he kneels at the door of your heart, holding it open for Jesus. Our Mother Mary is there, too, and your Patron Saint, they are so full of joy!
Always remember, dear Child, that you are a temple of God … that He delights living in your heart. Be sure to keep it clean and free from sin, ask Our Lady to help you. She is an excellent housekeeper, she will help you make your heart into a palace, a beautiful home for the King of Heaven, Jesus!