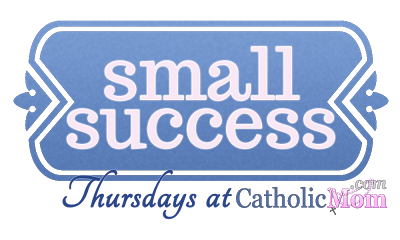 First-ever Small Success Thursday Post
First-ever Small Success Thursday Post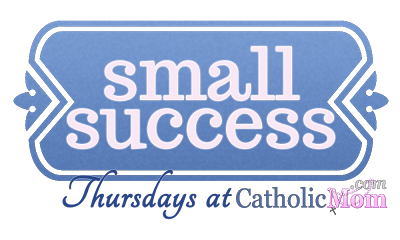 Over at CatholicMom.com, we count our small successes for the week. Recently, a friend reminded me how important this is to do. In fact, she encouraged me to do it daily, even if it appears to be bragging, because she knows that if I don't, well, something like this will happen instead:
So often, I am bombarded with long to-do lists. But rather than feeling good about checking things off, I focus too much on what's still on the list. Take for instance my fall cleaning project. Since September, I have decluttered and deep-cleaned every room in my house. Pretty awesome, huh?! I even made a BIG trip to Goodwill and donated a bunch of clothing and winter gear to the free store. BUT … I still have the office, one section of the basement, three kitchen cabinets and the pantry left to do. Rather than feeling good about every room that is clean, those last four tasks loom over my head like a black cloud. I don't feel accomplished because of those four little things, which is real and utter nonsense! And I must tell myself that—out loud at times—to combat it and believe in my successes.
So, celebrating the small victories is now an essential and permanent item on my to-do list. I'm better at it on some days than on others. But I think Small Success Thursdays will help.
Won't you join me?
All you have to do is write (celebrate!) three small successes in a blog post or in the comments at CatholicMom.com. And when you have a coffee break at some point today, go ahead and celebrate with the other moms by clicking on their lists, too. Together, we can focus more on the things we have done, rather than on the things that are still pending!
1. On Black Friday, I stayed in my pajamas until noon and got most of my Christmas shopping done (online)! It was the most lazy-productive day I've ever had!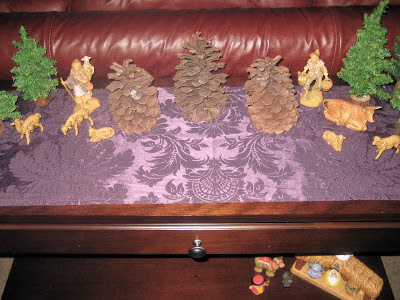 2. My children and I put up our Jesse Tree, set out our Advent wreath and put up just part of our Nativity scene. (My hope is that by displaying the Nativity in stages, my children will get a visual of the Advent journey.)
My 8yo, who was helping me, understood why we wouldn't put the Baby Jesus out yet, but she looked at me a little apprehensively when I suggested just displaying the shepherds and a few animals. "Mary and Joseph aren't in Bethlehem, yet," I explained. Her look was still uncertain.
Well, to her surprise and my delight, on Sunday at church, low and behold only the shepherds and a couple sheep were displayed on the altar! Father even said something about "just wait to see who shows up next week." And she looked at me and smiled … reassured that Mom's idea was a pretty good one after all!
3. I started reading A Lantern in Her Hand by Bess Streeter Aldrich for my Well-Read Mom book club.
Well, I'm off to clean the bathroom! (Another success!) Happy Thursday, friends!