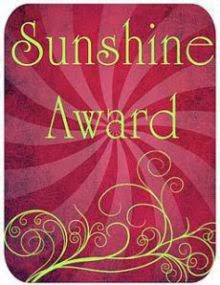 You Are My Sunshine
You Are My Sunshine
Getting back into blogging after a two-year hiatus has been harder than I expected. Most of the small readership that I had built up most likely doesn't even know I'm back, and I feel like I am starting over (which is OK).
But I was pleasantly surprised when my friend Kelly Wahlquist nominated my little blog for the Sunshine Award! I was blessed to be a guest writer on Kelly's blog during Advent when she hosted Advent Reflections on Pope Francis' apostolic exhortation Evangelii Gaudium (The Joy of the Gospel). I was sandwiched between Jeff Cavins and Fr. Donald Calloway, and at first was just a wee-bit intimidated. But through Pope Francis' encouraging message to all of us, I soon had a different perspective:
In Evangelii Gaudium, Pope Francis reminds us—the People of God, the Church—that first and foremost we are missionaries called to proclaim the Good News of Jesus Christ to whatever corner of the world we live in. This calling is not just for priests and religious, college professors and Bible scholars. This calling is not just for those selected to literally go to the ends of the earth. This calling is for all of us—moms and dads, business professionals, retirees and everyone in between. Each of us is invited to be part of something ever-new and always exciting!
So, this mama of six was indeed blessed to be among such amazing Catholic writers, theologians, religious and laity. And I am again blessed by the nomination for the Sunshine Award, which is passed on by bloggers to other bloggers who "positively and creatively inspire others in the blogospere."
Here are the "rules" for acceptance of this award:
Use the award logo in the post.
Link to whoever nominated you.
Write 10 pieces of information about yourself.
Nominate fellow bloggers who nominate 10 fellow bloggers who "positively and creatively inspire others in the blogospere."
Leave a comment on the nominees' blogs to tell them of the award.
Now for the 10 things about me. I'll try to keep this short and sweet 🙂
1. I was born and raised in Miami, Florida and moved to Minnesota when I was 15. I didn't go sledding until I was in college, and I have never been snow skiing.
2. Water skiing is a different story. I learned to water ski when I was in 6th grade, and in high school, I even learned to "slalom," meaning ski on one ski! This took a great deal of effort and patience (especially on the part of my cousins who were gracious enough to teach me).
3. Back to the snow, after 20+ years of living in Minnesota, there are many winters (including this one) when I still ask myself, "Will I ever get used to the cold, the snow and all that goes with it?" I don't like to complain about the winter, but I do wonder …
4. I am an only child, and so being the mom of six children has really rocked my world! But I wouldn't trade this life for anything, even though motherhood truly is "the toughest job you'll ever love." (Bonus points to whoever knows from what organization this unofficial slogan comes.)
5. Speaking of being an only child with six children, often when my children are squabbling, I have to look to my husband to tell me "this is normal." Because sometimes I am still surprised by how much squabbling actually takes place among siblings.
6. As a stay-at-home mom, I recently realized that I have not interviewed for a job in 14 years. Until this week. More on that later …
7. Last week, I signed up for my second 5K race!
Yeah, this would be the Hot Chocolate 15/5K: America's Sweetest Race. And yes, that means I will run for chocolate! "Run for chocolate, Sarah? But you aren't even a runner," you might be saying …
8. Well, last summer, in order to incorporate exercise into my daily life, I joined a running group called Moms on the Run. I ran three times a week and participated in a 5K at the end of our 18-week season. It was one of my biggest personal accomplishments for sure!
9. A few of my favorite things:
(from left to right) Say Goodbye to Survival Mode; Catholic planner; Sharpie pens in assorted colors; my new iPhone
10. One of the best movies I've seen recently is a children's one. Frozen. The songs continue to be in my head, because my children are singing them constantly. To make up for my complaining about the winter, I will leave you with a song that celebrates the fun that snow can bring:
And my nominees are … Please check them out! They are wonderful blogs, filled with joy, faith, beauty, honesty and hope! And plus, behind the blogs, there are some amazing, incredible, inspiring women!