Small Success Thursday: It's Late November Already?
Small Success Thursday: It's Late November Already?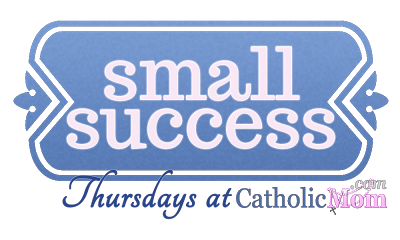 It's Thursday and time to share our small successes of the week with others over at CatholicMom.com!
It is really, really hard for me to believe we're near the end of November. In my head, it is still right around November 1, and I have the whole month to ponder plans for Advent and Christmas. But as of today, there is only one week until Thanksgiving and 10 days until the First Sunday of Advent. Where, oh where did November go?
If I think too much about the quick passing of time, though, I will begin to stress about all the things I have not done this month that I had hoped to do. And that is not what Small Success Thursdays is all about.
So, instead of dwelling on my un-successes and getting anxious, which is really easy for me to do, I will fight to maintain focus on the positive and the little successes of the week:
1. Starting last Friday, we have had five big school projects due this week, and I can happily say they are ALL done! I cannot take all the credit for this, because obviously my kids worked really hard on these. Plus, my husband helped out in a big way with the portion of these projects that involved paint. Since last Friday, we completed and turned in …
* one ABC book (The ABCs of Autumn to be exact)
* one saint report on St. Veronica
* one saint report on St. Luke
* one book report on Little House in the Big Woods
* one set of puppets for a puppet show my daughter will present to a younger grade
Whew!
2. I started my Christmas shopping! I really strive to get my Christmas shopping done before Advent. It frees up time to enter into and enjoy the quiet, the waiting and the anticipating. It opens up windows of opportunity for family fun and spiritual traditions. (I also don't particularly like crowded stores, so I try to avoid them as best as I can.)
This year, like I said earlier, I still think I have time for this and therefore I haven't done much shopping. I see things in stores and think, "Oh, I'll get that later." Um, hello? Why not just get it now!?
But I have purchased three chocolate Advent calendars for my kids to share. I love that these will help support children in Ghana! I also purchased a "gold" gift for my 3yo, stocking stuffers, birthday and Christmas gifts for my mom, and a couple of godchildren presents. It's a start! And as soon as my twins' birthday is over tonight, I hope I will have more mental space to come up with a plan for the rest!
3. I said "no" to something. This was really, really hard for me, and I procrastinated this decision for way too long. But I finally mustered up enough courage to say "no" to a church commitment that is just unrealistic for me to fulfill at this time. I know that when we say "no" to something, we are opening ourselves up to say "yes" to other things. But still, for me this is difficult, because I don't want to let anyone down, and I also fight with this idea that I really "should" be able to do it all. So, yeah to saying no!

Your turn: What are your small successes this week? I'd love to celebrate with you! And for more Small Success inspiration, please visit CatholicMom.com!