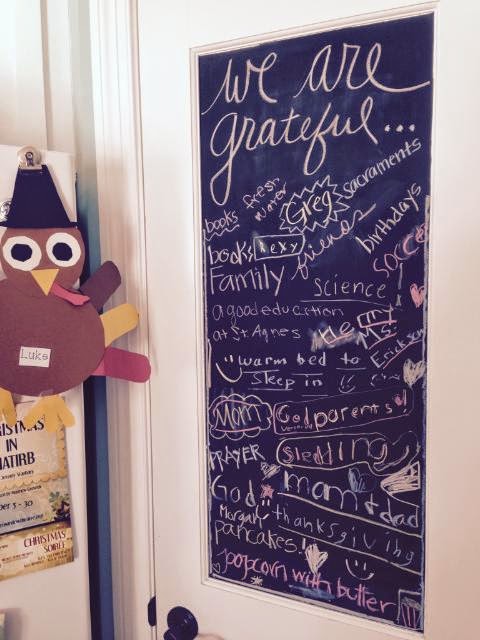 A Month of Thanksgiving—26
A Month of Thanksgiving—26
Happy Thanksgiving! Today is the day of gratitude. The day that this month has built up toward. What I am learning from this exercise of listing my blessings every day is that this "attitude of gratitude" is essential, not just today, not just in November, but every day of our lives. Our outlook changes, our lives change when we see it through the lens of our blessings. I know, because listing these blessings has been changing me. And it has been amazing, not only in how I feel but also in how I look at things and in how I talk to my kids about things. I am grateful for this challenge by Jenny of
The Littlest Way
! I really do feel like God has worked through her to teach me about gratitude. Praise Him!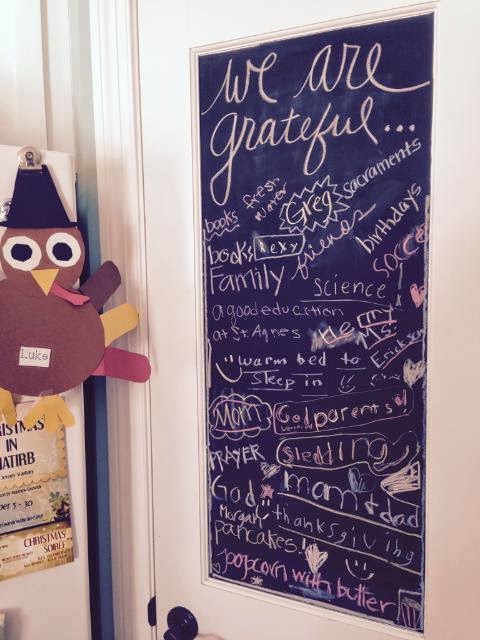 Our gratitude chalkboard + a cute turkey by Luke
Today, my family and I had a wonderful day of Holy Mass, relaxing at home and gathering with extended family. As I reflect upon this Thanksgiving Day, I continue to list what I am grateful for. Here is my list for Day 26:
168. Morning Mass on Thanksgiving Day
169. Browsing the ads in the newspaper, even though I don't plan to shop this weekend
170. Teaching Olivia a new card game
171. Watching a little bit of the Macy's Thanksgiving Day Parade with Anna
172. Enjoying a chocolate peppermint Shakeology, to avoid grazing on appetizers before the big meal
173. Gathering together with family
174. Singing "Now Thank We All Our God" at Mass AND just before we ate dinner
175. Praying with family
176. Delicious food on Thanksgiving Day; some dishes that I only have once a year
177. Impressive gluten-free stuffing that my SIL made
178. Playing Bingo with the kids, but instead of shouting out, "Bingo" when they won, they shouted out something they are grateful for
179. Pumpkin Pie with homemade whipped cream
180. Visiting with in-laws, while the kids played and watched a movie
181. A little boy who still likes to sit on my lap
182. Seeing a few Christmas lights on our way home
183. Looking forward to Advent
184. My husband's patience with me
185. The blessing of my mom living with our family
186. The generosity of my dad
187. Good neighbors all around us
188. The Thanksgiving proclamations of George Washington and Abraham Lincoln
***

Linking up with fellow blogging friend Jenny from The Littlest Way. If you would like to join us in counting your blessings each day in November, please share your link or just your list each day in the comments section on her blog.