Small Success Thursday: Beginning Lent
Small Success Thursday: Beginning Lent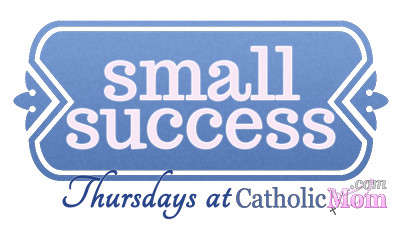 It's always so hard for me to believe when Thursday rolls around! The week can't possibly go by that quickly! But here it is, Thursday again and time to share our small successes of the week with others over at CatholicMom.com!
I am not consistent about posting in this link-up, but I really do like it! We need to celebrate our victories, even the small ones, from time-to-time!
1. I put away my winter decorations and started decorating for Lent. I used to be really good at putting out some physical reminders of this holy season, but the last few years have been less-than-ideal. This weekend, however, I heard an inspiring talk by Catholic speaker Patty Schneier, and she encouraged me to get out my purple fabric and put together a couple of focal points for Lent. And I did! (Photos to come.)
2. After I received ashes yesterday morning, I ran a few errands. Two people working at shops that I visited commented on my ashes. One was clearly Catholic, and we had a joyful conversation about Lent and remembering to not eat meat on Fridays and the like. The other one was clearly not Catholic, but he was very respectful and admitted he loved this time of year because of the fish sandwich sales at the various fast-food restaurants. Ha! Either way, these conversations reminded me that I don't need to be afraid to wear my faith (even as a big black smudge on my forehead) and to share it when opportunities arise.
3. I continue to follow the Whole30 plan. I had a couple of challenging days, because I was gone all day on Saturday and then it was Mardi Gras, but otherwise, I have been on track! I am not necessarily feeling better (yet), due to some health issues, and the weight is coming off sloooowly, but I am hopeful that in the long run, this will be life-changing for me. My cravings have diminished, and I am cooking a lot more, which has blessed my family tremendously! I am extending this eating plan through Lent, so I guess it's now a Whole40!

Your turn: What are your small successes this week? I'd love to celebrate with you! And for more Small Success inspiration, please visit CatholicMom.com!