Small Success Thursday :: On Rest and Peace
Small Success Thursday :: On Rest and Peace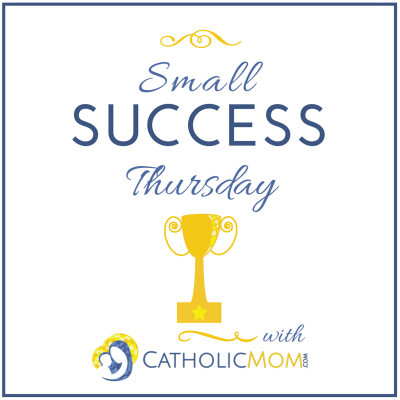 We are into the second week of summer, and this week has been an unusual one. In a good way. All six of my children are attending VBS this week. At four years old, my youngest son is finally able to participate, and my oldest can be a helper. So, everyday this week, I dropped them off and had two-and-a-half hours all to myself!
Back when I signed them up, I expected to get a bunch of stuff done in that timeframe. Things like decluttering and cleaning. But in the past week or so, I have been experiencing some (new) health issues, my energy level is really low, and I have some pain in my foot. (So weird.) Rather than beating myself up about what I can't accomplish right now, I used this alone time for rest and peace, things I really need. (God alone could have given me the wisdom to be inspired to do this.)
1. On Tuesday, I went to Adoration. Afterward, I got an iced coffee, sat outside and read my book.
2. Yesterday, I went shopping for new shoes.
3. This week, I also went to see my doctor, who gave me hope! She has a new theory about what is going on with me, and I really believe this could be it. We'll see …
What small successes have you accomplished this week? They can be anything that is important to you, that gives you hope, that gives you peace and joy! For more Small Success Thursday posts, please visit CatholicMom.com.