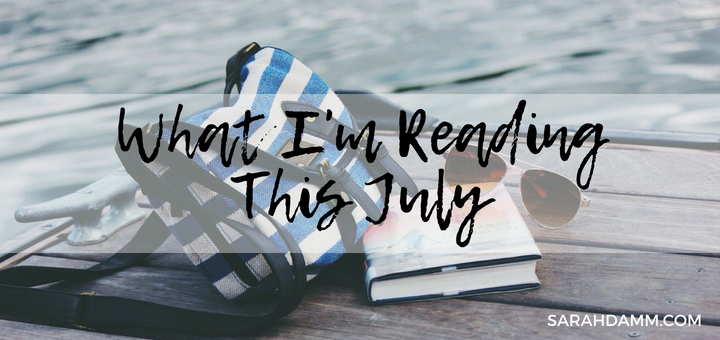 An Open Book: What I'm Reading This July
An Open Book: What I'm Reading This July
Summer has proven to be a wonderful time to catch up on one of my favorite past-times: reading. Except for one minor hiccup: I am not a fast reader. Therefore, I am never going to read all the books I hope to read in any given amount of time. If I am OK with that, and I think I am, then, yes, summer is a wonderful time to catch up on my reading!
In June, I set out to read five books: 2 fiction and 3 non-fiction. I read three, and one of them wasn't even on my list! I finished Honeysuckle Dreams by Denise Hunter, Falling for You by Becky Wade, and Just Let Go by Courtney Walsh. All of them fall into the Christian romance category, and all of them are wonderful. I highly recommend any of them for your next beach read! Each of them is part of a series, so be sure to look into the books that come before these, too.
This month, I am keeping my reading momentum going, and once again, I am joining Carolyn Astfalk and friends for the monthly linkup, An Open Book, on CatholicMom.com. Here's what I'm reading this July:
Current Reads
I am continuing to read (and savor) GraceLaced, the beautiful devotional by artist and author Ruth Chou Simons. It is organized by the natural seasons—winter, spring, summer, and fall—that can easily correspond to the seasons of our hearts. With gorgeous watercolor paintings and lovely hand lettering, Ruth encourages readers in any season of life to tether themselves to God's faithful promises. GraceLaced invites us to rest in who God is, rehearse the truths He says about us, respond in faith to those truths, and remember God's provision to sustain us over and over again.
Simply Tuesday: Small-Moment Living in a Fast-Moving World by Emily P. Freeman invites readers to be present to real life happenings in small moments on the most ordinary day of the week: Tuesday. She encourages us to stop dreading small beginnings, embrace today's work, find contentment in the present moment, let go of competition, and learn to breath again. Just reading the very beginning, Emily sounds like a Protestant version of St. Therese. I wonder if she's read The Story of a Soul.
Up Next
Making Room for God: Decluttering and the Spiritual Life by Mary Elizabeth Sperry is the first organization book from a Catholic perspective. In it, she explores the relationship between our stuff and our Catholic beliefs. Each chapter includes details of the author's own journey (and struggle) with decluttering, to encourage us along the way. While Mary draws wisdom from the Bible, liturgy, Fathers of the Church, lives of the saints, and Church teachings, she also offers practical elements to help us declutter our homes once and for all.
The Perfect Blindside by Leslea Wahl is a Catholic teen novel that I plan on reading in a summer book club with with my daughter and some of her friends. It is about Jake Taylor, a young Olympic snowboarder, and Sophie Metcalf, a high school junior, as they find themselves mixed up in a mystery that they must work together to solve. It seems like a wonderful tale of romance, mystery, faith, and fun.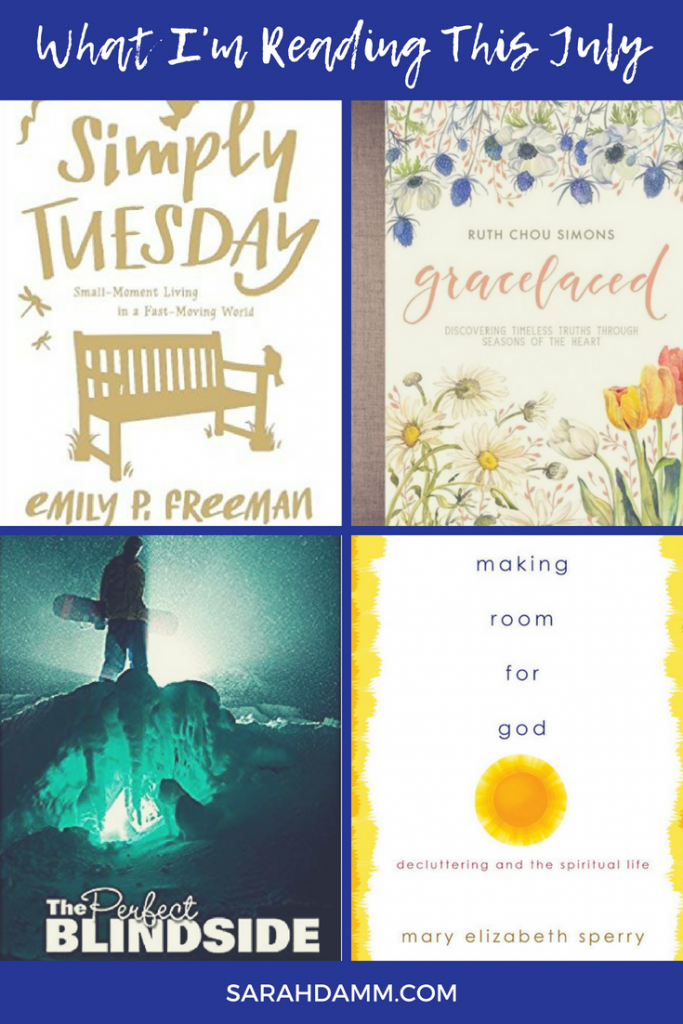 What have you been reading? What do you look forward to reading this July? Please share in the comments below, as I am always looking for good recommendations. And if you are on Goodreads, let's connect there to keep the book conversation going.
To read more Open Book posts from other avid readers, please visit CatholicMom.com or Carolyn's blog.
Happy Reading!