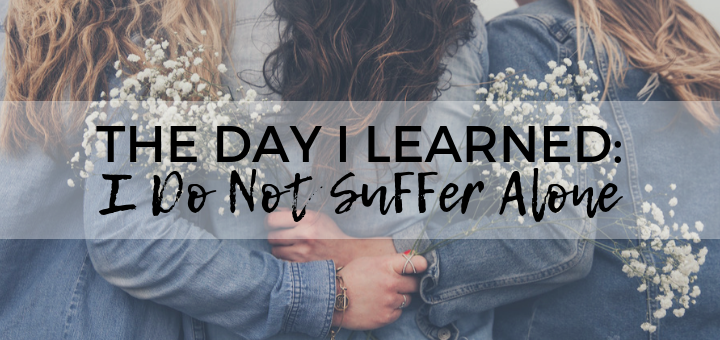 The Day I Learned: I Do Not Suffer Alone
The Day I Learned: I Do Not Suffer Alone
Walking into my doctor's office, I was filled with tentative hope that this follow-up visit would bring me one step closer to healing. Chronic health issues were taking a toll on my whole person — body, mind, and spirit.
I knew I needed help. But the medications I was trying were not making a dent in my overall well-being. In fact, the latest one seemed to make me feel worse.
As I gave my name to the receptionist, the look on her face shifted. "Oh," she said. "We just called to tell you that the doctor left to deliver a baby."
I looked down at my phone and saw the missed call that came in four minutes before my arrival. Disappointment and discouragement washed over me. I wanted to be mad at my doctor. I wanted to be mad at that baby. And maybe I was, just a little. But it wasn't anyone's fault. These things just happen.
A lot.
To me.
The kind receptionist tried to reschedule my appointment, but I really couldn't wait a whole month. She wrote out a message for my doctor to call me, and I left.
As I walked back to my minivan, I could feel my heart breaking and my body aching for answers. Tears welled up and rolled down by cheeks. I did not realize just how close I was to falling apart.
I recognized the anger I felt; this is not how I wanted life to be. I knew that living like this — exhausted, drained, depleted, worn out, out of shape, and out of sorts — was unsustainable.
"What am I going to do?" I wondered.
As I opened my van and sat down in the driver's seat, the tiny amount of hope I felt 10 minutes ago was gone.
As the tears continued to fall, I reached for my phone. I almost texted my husband, but I tapped a different number instead. Why? Because deep down I knew that I specifically needed the prayers and support of women. I desperately needed their friendship.
It was a courageous move on my part, because I am not good at asking for help. Often, I feel reserved. And even though I want connection and sisterhood, it has not been easy for me.
But I didn't hesitate this time. I took a risk and texted one friend and then three more.
I explained what happened and expressed that I didn't know what to do anymore. And as I cried out over text—How can I be a good mom when I feel so bad?—I asked for their prayers.
Almost immediately, their responses came in. Two women prayed over me, right through the text screen. With conviction, they prayed beautiful words of love, hope, and solace. They renounced the spirit of despair, in Jesus' name. They prayed for me at a moment when I couldn't pray for myself. I sobbed tears of relief, because I felt heard, cared for, and loved.
As the tears ceased, I took a deep breath. The last 45 minutes of reaching out, expressing my emotion, sharing my need, and praying with sisters in Christ was a time of cleansing to my weary soul. Oh, the peace!
In her book Jesus Approaches: What Contemporary Women Can Learn About Healing, Freedom & Joy From the Women of the New Testament, Elizabeth Kelly writes, "Jesus always has a way — a better way, a perfect way, a way we cannot conceive of—to bring about our healing."
And I couldn't agree more.
God works in mysterious ways. I set out for healing in one direction (my doctor), and God set up a detour and pointed me in a different direction (my friends). In His wisdom, God knew that seeking prayer, relationship, and connection would be better for me than a new medication. He knew that a spiritual healing needed to come first.
I still live with chronic illness, and I am still seeking medical help. But now I know that I am not alone. I do not have to suffer by myself. My hope was restored, when I reached out to dear sisters in Christ, who prayerfully brought me to the Lord for His healing embrace.
---
This was originally published on CatholicMom.com.