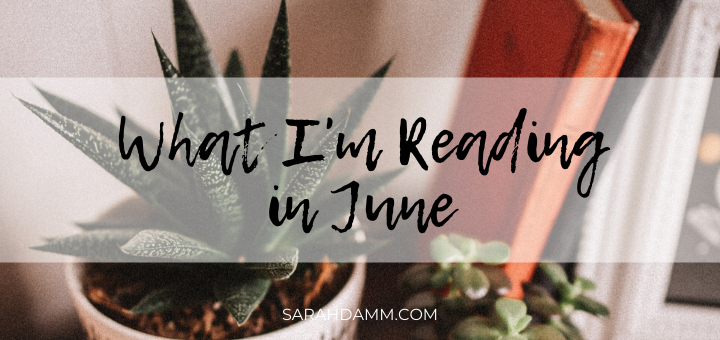 An Open Book: What I'm Reading in June
An Open Book: What I'm Reading in June
It has been a few months since I've written about books. We entered a time of quarantine, shortly after I published my March book post, and I honestly thought I would read so many books during my time at home.
But in reality, I read zero!
For all of March and April, I did not read a single book. I did not have the mental capacity to do much more than the basics. It felt like I was just surviving. And adjusting. And then readjusting to life in the midst of pandemic.
Along with my reading goals being unfulfilled, I did very little in terms of baking bread, decluttering closets, and learning new skills. I was simply hunkering down with my family—helping my children navigate distance learning, cooking, ordering groceries, and going on lots of family walks. The sheer nature of such a drastic shift was exhausting to me. It was simply hard.
Now that I am used to this new way of living (and that does not mean I love it), and now that things are reopening and restrictions are lifting (which sort of makes life even harder), I have found some space to pick up a book, and I am enjoying reading once again.
What I'm reading in June
The first book I read after my quarantine hiatus was Stay with Me by Becky Wade. It is the first book in her new Misty River series, and I truly enjoyed it.
Genevieve Woodward is an acclaimed Bible study author who mysteriously finds herself collapsed in the guest house of Sam Turner. She realizes she needs the refuge his guest house provides her, and reluctantly, he allows her to stay.
As the background stories of Genevieve and Sam unfold, they grow in friendship and eventually fall in love. However, as with most romance novels, they both need to discover personal healing in order to truly give themselves to each other.
I cannot remember how I stumbled upon author T.I. Lowe, but I read the first book in her Carolina Coast series, Beach Haven, and I was instantly hooked. Opal and Lincoln make a quirky couple, but that's probably why I liked them! She is free-spirited, and he is an ex-Marine nursing deep physical and emotional wounds.
When a hurricane strikes, damaging Opal's store, Lincoln decides to help her with the restoration. But soon, Opal realizes that Lincoln is also in need of restoration. While Lincoln tries to keep Opal at arm's length, her meddling actually begins to heal him. And as they work side by side, they discover that opposites attract, and that their differences are truly good for one another.
Now, I have just begun Driftwood Dreams, the second in Lowe's Carolina Coast series. It is the story of Josie Slater and August Bradford. They have a long history together, plus, they share a love and talent for art. I can't wait to see how their story unfolds!
I am reading Emily P. Freeman's newest book, which in now about a year old, with a small group of women in an online book club. The Next Right Thing offers a fresh perspective on the art of decision making. She begins by suggesting that we simply do the next right thing. With this soulful practice, it is possible to overcome decision-making fatigue, quiet the fear of choosing wrong, and find the courage to make confident decisions without regret.
If this sounds like a book you would enjoy, and you would like to join the book club, please click here. We are only in our first week, so you can certainly catch up!
Your turn
What have you been reading? What do you look forward to reading this June? Please share in the comments below, as I am always looking for good recommendations. And if you are on Goodreads, let's connect there to keep the book conversation going.
Happy Reading, friends!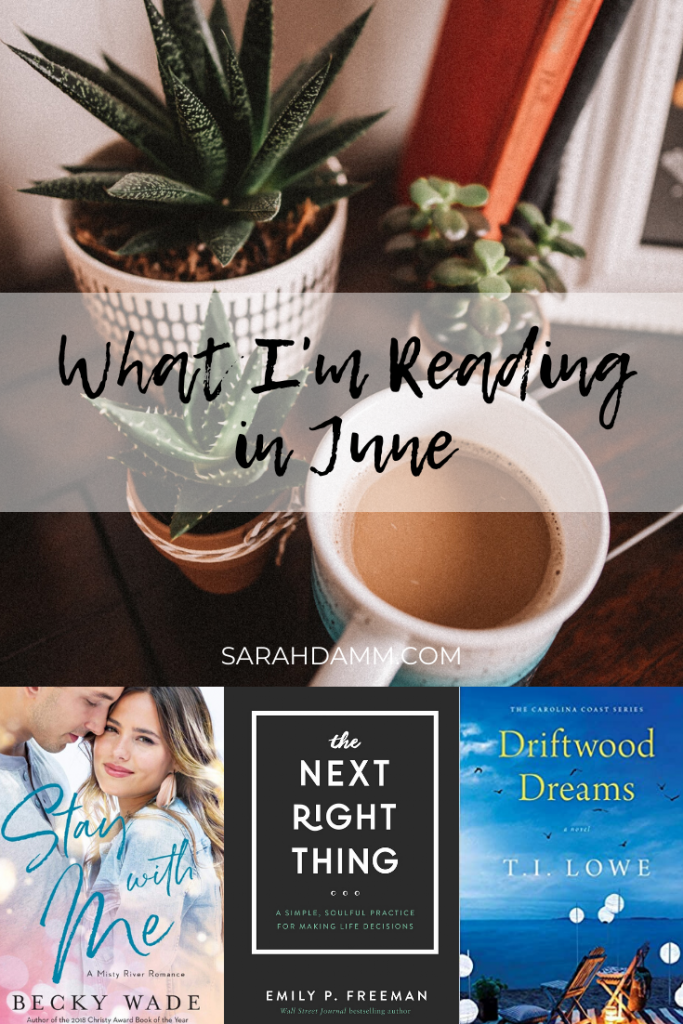 ---
This post is part of the monthly Open Book linkup on CatholicMom.com. Join Carolyn Astfalk and other avid readers as they share the books they're currently reading.