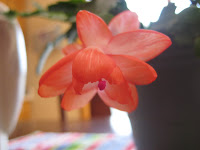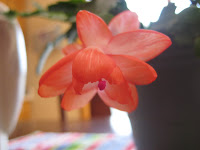 Last year, around Christmas time, friends and family members were serving our family by preparing and delivering meals. Our twins had just been born, and it was their way of helping—tremendously helping—us.
One kind woman gave us a Christmas Cactus along with her meal. Now, I do not have a green thumb, but I also couldn't just throw the plant away after so long. So, I decided to transplant it into a flower pot and see what would happen.
I placed it next to my kitchen window and gave it water when I thought it needed it. A few times, I noticed it didn't look too good, but it always perked back up.
A year later, a short time after this Christmas, it started growing small pink buds at the ends of the leaves. Today, the first bloom truly blossomed! I can't really explain how it happened, but it did! And it is so pretty!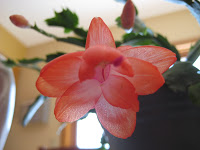 I moved it from the kitchen window to our kitchen table, which still gets quite a bit of afternoon sunlight, along with our Holy Family statue. Kind of a centerpiece, I guess, on top of a wintery place mat.